And we're back! We took a little breather over the holiday season, but consider this our return to weekly running-related content, beginning with our Top 5 stories of the week. And keep an eye out for our Winners & Losers pod on last weekend's Houston Marathon (recorded, and due to drop tomorrow), as well as an all-new Sunday Long Read, droppin' in your inbox (you guessed it) this coming Sunday morning (hint: it explores the IOC's controversial Rule 40).
It was a hectic, action-packed week in running, so let's get into it. Our Top 5 starts with one hell of a race, set for April:
Kipper versus Kenny - IT'S ON!
It's official: the 2020 London Marathon will feature the two greatest distance runners in world history. Here they are, mano-a-mano.
Eliud Kipchoge Kenenisa Bekele
5'6 Height 5'5
115 lbs Weight 115 lbs
35…right? Age 37
Kenya Country of Origin Ethiopia
Kipchoge is the reigning Olympic champion, is the fastest marathoner in the world, and has risen to international fame after becoming the only man to ever run under two hours in a marathon (albeit illegally). He has raced nine major marathons, and has won eight of them. The only man to beat him in a world major is being investigated for a doping violation.
Kipchoge winning the 2019 London Marathon
Bekele set the 5,000m and 10,000m world records 15 years ago. Nobody has yet come close to beating his marks of 12:37 and 26:17 since. He has three Olympic golds, five world track and field championship golds, and eight world cross-country golds. All were won before 2010. In 2019, despite having been injured for years, he won the Berlin marathon, and missed Kipchoge's marathon world record of 2:01:39 by two seconds.
Bekele winning the 2019 Berlin Marathon
What it means:
Kipchoge and Bekele are known as the two best distance runners of all time. They have never faced off in the marathon, and as they advance in age, the opportunities for head to head showdowns continue to diminish. So, the 2020 London Marathon (and perhaps the Tokyo Olympic marathon, just 15 weeks later) might morph into an era-defining Battle Royale.
At best, we see the two distance running demigods duke it out in a sprint finish. At worst, one of them has a bad day, drops off early, and gets beaten by 2:02:55 Ethiopian Mosinet Geremew, the most forgotten about 2:02 marathoner in modern history.
What's next:
Here's something to chew on as we make our predictions for this ultimate showdown: what shoes will they both wear?
Kipchoge has become the face of Nike's carbon fibre and Pebax foam movement. He will likely wear a version of the new Nike AlphaFly, which he wore at the INEOS 1:59 challenge. But what shoes will Bekele wear? He has not been involved in any of Nike's Vaporfly promotional stunts. Will he also have the privilege to run in the white and pink moon shoes? Or just the plain and boring Vaporfly Next%?
Kipchoge holding his pair of Nike Alphaflys. The shoes are an updated model of the Vaporfly Next%, and have three carbon fibre plates as opposed to its predecessor's one.
---
Nike Vaporflys are on the chopping block
Nike Vaporfly Next%
World Athletics is considering banning Nike's Vaporflys. The carbon plated shoes released in 2017 have propelled multiple runners to major marathon wins and even world records. Eliud Kipchoge wore the Alphaflys when he ran sub two hours in the marathon and Brigid Kosgei was wearing the Next% when she broke the marathon world record.
At the moment, World Athletics is completing a study of the Vaporflys to determine their advantage. The results of the study, and whether the Vaporflys will be banned, should be released at the end of January. The ban will put restrictions on how thick a shoe's midsole can be and whether they can contain a carbon plate.
What it means:
World Athletics, as usual, is late to the game. The Vaporflys have been on the market for nearly three years and have been worn during some of the most exciting races the running community has seen in the last decade. By banning the Vaporflys, they will be stripping the sport of its current element of excitement.
There is also the question of what happens to the world records set by athletes wearing Vaporflys? Apparently, World Athletics will place a moratorium on those results, meaning the records will stand. While this is great for the athletes who set the records, by putting restrictions on shoes this could be putting the records out of touch for years.
This will also majorly impact companies such as Addidas, Hoka One One, Brooks, and New Balance who are in the process of releasing their own carbon plated shoes.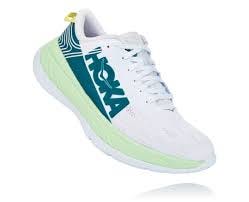 Hoka One One Carbon X
What's next:
If World Athletics does put restrictions on carbon plated shoes, it will be interesting to see how race organizers and shoe companies react. The Vaporflys are a huge money maker for Nike. Are they going to stop producing them because World Athletics won't let athletes wear them? And does this mean that races like the New York Marathon will ban competitors from wearing them? It seems ridiculous to think you might ban a 2:30 marathoner for wearing them.
New Balance FuelCell 5280
It's possible World Athletics will discount any qualifying standards achieved by elite runners while wearing the Vaporflys, still leaving the door open for rec runners to wear them in races. Regardless, running is all about pushing your limits and seeing how fast you can go, so we really hope World Athletics decides against the ban.
---
Canadians have field d'eh in Houston🇨🇦
A Canadian contingent of #Tokyo2020 hopefuls eclipsed Olympic standards and destroyed national records at the Houston marathon and half-marathon on Sunday, January 19.
Although The XC is a Canadian publication, we try to remain unbiased in our reporting. That being said, this strong a showing from Canadian athletes deserves a mention, and a ranking of Sunday's True North Top Three.
🥉Bronze 🥉- Natasha Wodak
Wodak became the first Canadian woman to break the 70-minute half-marathon barrier. Her clocking of 1:09:41 bested Rachel Cliff's previous national record by 25 seconds.
The 38-year-old represented Canada in the 10,000m at the 2016 Olympics, and has yet to debut in the marathon. We now know she is in great fitness, so the question becomes: will she return to the track this spring, or will she join the most heated Olympic marathon tryout in Canadian history (more on that later)?
🥈Silver🥈
After his 2:16:42 debut in Toronto last fall, it seemed like Rory Linkletter needed a few more years of seasoning before he could be taken seriously on the road racing scene. Then, in his half-marathon debut on Sunday, he beat Canadian record holder Cameron Levins by more than 30 seconds en route to an elite clocking of 1:01:44.
Linkletter's time is the second fastest in Canadian history, and falls just short of Jeff Schiebler's national record of 1:01:28. Such a performance will likely encourage Linkletter to chase the Olympic marathon standard of 2:11:30 once again in the spring.
🥇Gold🥇
Malindi Elmore was already an Olympian. In the 1,500m. In 2004.
When she announced her intention to make the Tokyo team in 2019, it raised more confusion than hope. When she withdrew from the 2019 Scotiabank Toronto Waterfront Marathon with a hamstring injury, narratives around her age emerged.
Then, Elmore made doubters quiver by obliterating (you guessed it) Rachel Cliff's national record by over two minutes and becoming the first Canadian woman under 2:25:00.
At 39 years old, she becomes Canada's top marathoner on the world stage, and its best chance at a top-10 finish in Tokyo.
What's next:
Canada has never been represented by three women in the same Olympic marathon. This year, four women have achieved the performance standard which can be met by time (2:29:30), victory at the national champion, or placing at a major marathon or world championship. They are:
Dayna Pidhoresky: Canadian Marathon Trials champion
Malindi Elmore: Time standard (2:24:50)
Rachel Cliff: Time standard (2:26:56)
Lyndsay Tessier: Top-10 placing at IAAF World Championship in Doha (ninth overall)
Only Pidhoresky, for winning the trials, has a guaranteed place on the three-person team.
Dayna Pidhoresky winning the 2019 Canadian Marathon Trials
Athletics Canada will choose which two athletes between Elmore, Cliff and Tessier (and any other athlete who achieves standard before May 31) get to run in Tokyo. Given the fact that they own the two fastest clockings in Canadian history, it seems like Elmore and Cliff have the edge on Tessier.
---
Galen Rupp chooses a new coach
Galen Rupp, arguably one of the greatest American distance runners of all time, has announced that he will be training under Mike Smith, the head coach of Northern Arizona University. The change comes after Rupp's former coach Alberto Salazar received a four-year ban for doping, and their associated club, Nike Oregon Project (NOP), was dissolved. Rupp will train remotely, continuing to live in Portland. Despite pulling out of the Chicago marathon in October with a calf strain, Rupp plans to race the Olympic marathon trials in Atlanta on February 29 to secure his spot in Tokyo.
What it means:
Salazar's reputed golden boy, Rupp was first recruited by the coach at age 14 after Salazar watched him play soccer. Some have argued that Salazar's doping experiments were even motivated by the desire to make Rupp improve. Rupp, however, has never tested positive for banned substances, and he is one of the most heavily tested athletes in the world.
The switch to Smith is the first time Rupp will train with a coach other than Salazar. Smith has led Northern Arizona University's men's cross country team to first place NCAA finishes in 2017 and 2018, and a second place finish in 2019. Up to this point, Smith has exclusively trained university runners, making Rupp his first professional athlete.
nautrackfieldxc
In an email to Runner's World, Smith said that Rupp messaged him out of the blue asking to be coached. The two men had never met before. Smith was initially hesitant to coach Rupp due to the controversy surrounding him, but has since said that he's one of the most committed athletes he's ever met, and so far has been very coachable. But Smith has made it clear to Rupp that if anything comes out about Rupp doping, they will part ways.
What's next:
Besides watching Rupp attempt to secure his Olympic spot at the marathon trials in February, we hope that Rupp will open up about the Salazar experience. Rupp is infamously reclusive when it comes to social media, making it difficult to get a sense of his personality. Perhaps some distance from Salazar will allow Rupp to open up and reveal exactly what was going on behind the NOP curtain.
---
UK Anti-Doping refuses to hand over Mo Farah's samples to WADA
United Kingdom Anti-Doping (UKAD) is holding on tight to Mo Farah's blood and urine samples. The World Anti-Doping Agency (WADA) recently announced an inquiry into all of the athletes coached by Alberto Salazar, including Farah. UKAD, however, is refusing to hand over Farah's samples. According to The Telegraph, UKAD chief executive Nicole Sapstead said she will block the release of all stored samples unless there's credible evidence that they contain a banned substance.
What it means:
UKAD's defiance of WADA seems unprecedented and makes you wonder what kind of power the world agency actually has over subsidiary bodies. Sapstead was quoted as saying any samples collected by UKAD belong to UKAD, not WADA. Their refusal to hand over the samples would almost make you believe UKAD is trying to protect Farah if it wasn't for the fact that Farah himself has even come forward, saying he has no problem with his samples being retested.
So far, the only reason UKAD has given for not wanting to hand over the samples is that testing them now would degrade their quality. Instead, they want to hold onto them until technology has improved enough that they can perform a more thorough analysis.
What's next:
British distance runner Jessica Judd has denounced UKAD's decision to withhold Farah's samples from WADA, calling it embarrassing. She was quoted in The Guardian as saying: "The amount of samples that athletes give and they won't retest and use stupid excuses as to why [is] embarrassing."
The decision does seem to stand on shaky ground considering how many samples Farah has likely provided to UKAD over the years. Perhaps Judd speaking out will convince other athletes to stand up and, ultimately, change UKAD's decision.