The NYC Marathon: One. More. Race.
This season, we have so far been treated to: a sub-two hour marathon, the unlikely toppling of Paula Radcliffe's world marathon record, a steaming hot and closely contested world championship marathon, and a 2:01 lost in the noise. And, it's not over.
This year's New York City Marathon does not feature the glamour of the INEOS 1:59 Challenge, or even the depth of Chicago, but we can expect world class talent, a familiar face and a four-man rematch.
The women:
We anticipate the return of the Queen of New York (no, not Alicia Keys): Mary Keitany. She is the only woman other than Grete Waitz to win four NYC marathon titles, and she is poised to win her fifth—her personal best of 2:17:01 is fastest in the field.
Keitany wins the 2018 NYC marathon
What makes this race interesting: two scary underdogs. Joyciline Jepkosgei of Kenya is making her marathon debut, with a 1:04:51🔥 half-marathon PB under her belt (yeah, you read that right), and 25-year-old Ethiopian Ruti Aga is already the ninth-fastest marathoner in history (2:18:34).
American watch: Sara Hall toes the line just five weeks since running a huge personal best of 2:22:16 in Berlin. She will face 2018 Boston Marathon champion and two-time Olympian Desi Linden, who was sixth in last year's race.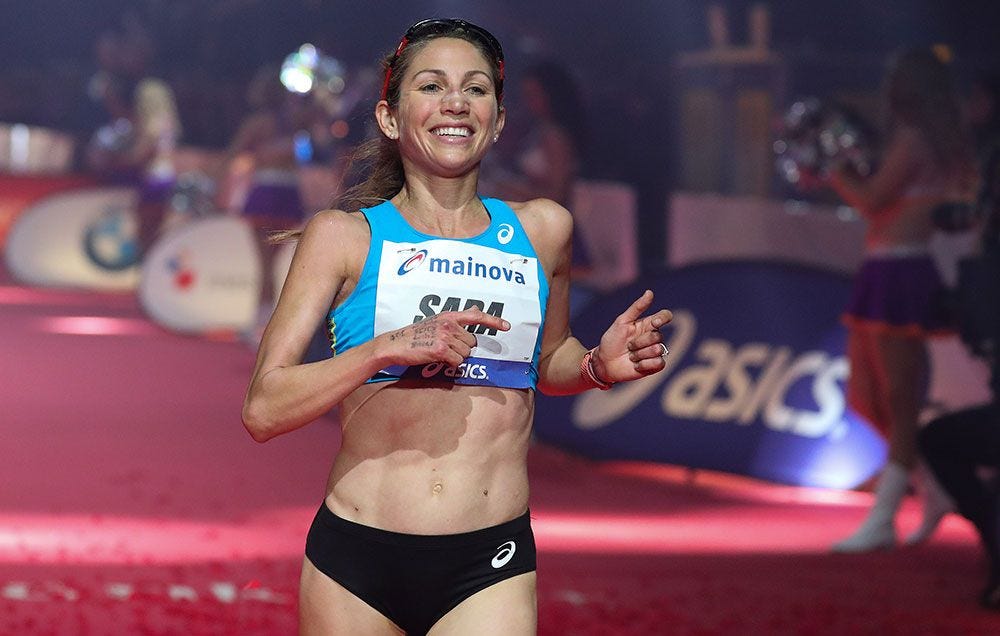 Sara Hall hopes to improve on her personal best, set earlier this fall. - Runners World
The men:
We are looking at a perfect rematch of last year's NYC Marathon—the top four finishers are back. The most surprising of the bunch? Last year's champion Lelisa Desisa. Just four weeks ago, the Ethiopian won the world championship marathon in 2:10:40 in Doha's blazing heat.
Desisa will race Geoffrey Kamworor of Kenya, who set a new half-marathon world record of 58:01 just last month. Ethiopians Shura Kitata (last year's runner up) and Tamirat Tola (fourth last year) are also on the start list and have both run under 2:05:00.
American Watch: Jared Ward is the man to watch. The Utah-based 2016 Olympian is coming off a sub 2:10 marathon in Boston earlier this year. He told Letsrun this week that he will be wearing a new Saucony shoe analogous to Nike's Vaporfly series.
Weird stat:
The NYC course records are the slowest of all major marathons, by a lot:
Women
Chicago: Brigid Kosgei - 2:14:04
London: Paula Radcliffe - 2:15:25
Berlin: Gladys Cherono - 2:18:11
Tokyo: Sarah Chepchirchir - 2:19:47
Boston: Margaret Okayo - 2:20:43
New York: Margaret Okayo - 2:22:31
Men
Berlin: Eliud Kipchoge - 2:01:39
London: Eliud Kipchoge - 2:02:37
Boston: Geoffrey Mutai - 2:03:01
Chicago: Dennis Kimetto - 2:03:45
Tokyo: Wilson Kipsang - 2:03:58
New York: Geoffrey Mutai - 2:05:05
What does this mean?
Amidst the carbon plate revolution, we have seen six major marathon course records go down since 2017. With top talent lining up in New York, the course records are likely to fall, and barring bad weather, it will probably be this year.
---
Duel in the Land of the Rising Sun
Trouble is brewing in Tokyo.
On October 16, the International Olympic Committee (IOC) announced that the 2020 Olympic marathon and race walking events would take place in Sapporo, 500ish mieles (800 kilometres) north of Tokyo, where they were originally planned. The decision was made in an attempt to find cooler temperatures after IOC president Thomas Bach witnessed the disastrous outcome of the Doha World Championship marathon (28 of 68 women and 18 of 73 men dropped out of Doha).
The marathon in Doha was run at midnight and reached temperatures temps in the mid-to-late 30s celsius. It's estimated that a 5 a.m. start time in Tokyo would hover around 27 C while a 7 a.m. start in Sapporo would be around 25.4 C. In comparison, the 2016 Olympic marathons in Rio were run in the mid-20's, but decent performances.
Why this matters:
While it does appear that the IOC has the athlete's best interests at heart (or are trying to avoid another blitz of bad press), they made the decision to move the marathon without consulting the Olympic organizing committee. And here's the kicker, the cost of moving the marathon rests on the shoulders of the Olympic organizers.
Japanese officials claim the move to Sapporo will cost them $310 million—a price that sounds outrageous but could be realistic considering the entire games is costing an estimated $25 billion, approximately 80% of which is funded by public money.
The decision has left a lot of Japanese politicians pissed off, including Tokyo Governor Yuriko Koike. While the IOC does have final say on decisions like these, announcing the move without consulting the Olympic organizers first feels like a slap in the face. But then again, this isn't the first time the IOC has made outrageous demands.
What to look for next:
As of November 1, Koike has given into the IOC's demands and is reluctantly agreeing to let the Olympic marathon be run in Sapporo. At a recent press conference, Koike was quoted as saying:
"We cannot agree with the final decision, but the IOC has the authority to change. The most important thing is to assure the success of next year's games."
While this move could pay off in terms of times and making the race competitive, right now it feels more like the egos of two governing bodies beating senselessly against one another while the athletes are relegated to the corner.
---
Dad, 59, crushes his son en route to their combined world record
At the Frankfurt marathon last Sunday, 1992 Olympic marathoner Tommy Hughes and his son Eoin collectively dipped under five hours (4:59:22) and shaved almost three full minutes off the previous Guinness World Record of 5:02:11.
The elder Hughes, 59, carried most of the weight—his clocking of 2:27:52 broke the age 59 marathon world record. The 34-year-old Eoin finished in 2:31:30.
Oh, and both of them wore pink Nike ZoomX Vaporfly Next%. The update to Nike's revolutional Vaporfly 4% is advertised by Nike as their fastest shoe ever.
Could it be that the shoes are what propelled the Irish duo under the record?
Quick math: they broke the previous record by less than 1%🤔
Tommy and Eoin Hughes ran roughly one per cent faster than the old record. It is possible that, without the shoes, they would not have broken it.
The previous record was set in 2015 by United Kingdom's Ben and Graham Green, before Nike's carbon plate models had hit the market. Hypothetically, had the Greens run 4% faster, their time would have been 4:50:06.
Can Hughes and Son run under 4:50 in the future and prove they are faster with or without the shoes? Eoin, we're looking at you.
---
Ohio high school girl disqualified for racing in a hijab
A 16-year-old Ohio high school student named Noor Alexandria Abukaram was disqualified from her cross country district meet for wearing a hijab. Abukaram finished the five kilometre race in a personal best time of 22:22 before learning she had been disqualified. Apparently the Ohio High School Athletic Association (OHSAA) has very strict rules around uniforms and requires athletes wearing religious headgear to submit a waiver before competing.
Abukaram's coach, Jerry Flowers, didn't submit a waiver because the hijab had not been an issue at any of the other meets Abukaram competed in that year. The most perplexing part is that an official performed a uniform check before the race and said nothing to Abukaram, but then approached Flowers during the race to notify him that she had been disqualified.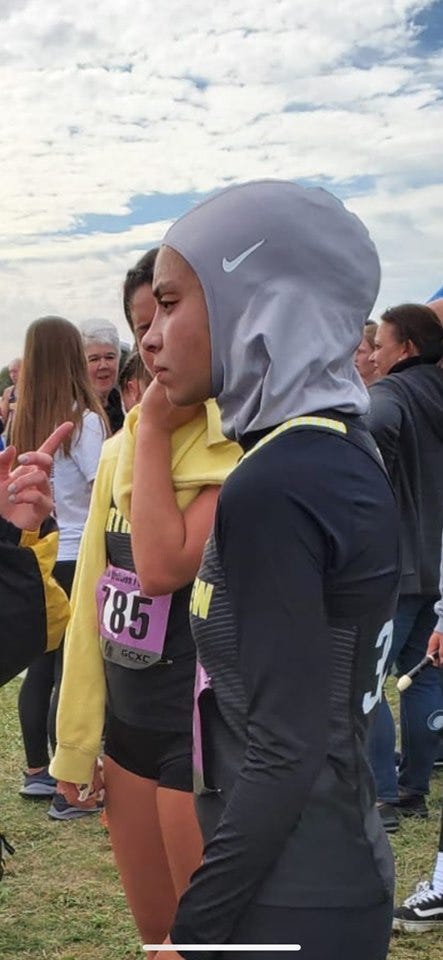 What this means:
It's telling when a high school student has a more mature outlook than the adults running the show. In an interview with Runner's World, Abukaram said:
"Rules are meant to keep people safe and limit advantages. I shouldn't have to let people know and bring a waiver to let people know I'm racing. I am baffled by that."
She is completely right. The illogical bluntness of the disqualification rings of outdated rules and potential racism. According to Time Magazine, the OHSAA's rule book doesn't explicitly mention hijabs, but it does ban most head coverings and capes.
Which seems shocking, considering athletes are allowed to compete in hijabs in the Olympics, and Nike has even created a sport hijab, which Abukaram races in, specifically for competitions like cross country. If anything, this is a sign that high school athletic associations need to come out with a more current edition of their rule books.
What to look for next:
Abukaram's school promptly submitted a waiver and the disqualification has been dismissed. She will be allowed to compete with her team at the state regional meet.
When asked about what will happen with the OHSAA's rule around head coverings, Tim Stried, a spokesman for the athletic association, told the New York Times that the OHSAA is considering changing the rule. If they do, it will be implemented by next season.
And finally, the Kipchoge Challenge… and racing in a frog suit for $100
Behold, retired Olympian and Run Gum founder/shill Nick Symmonds, suffering for our entertainment:
Somehow, he outdoes himself in the same week by racing people for $100 on Venice Beach, in a frog costume. God bless you, sir.