🎧 Podcast: Our Top 5 stories of the week
Hey there!
We're back with our roundup of our five favourite stories from the week. We've created two ways for you to get all caught up: skim through the stories below, or listen to our podcast (you can just stream it right here by pressing play👆). You can now also subscribe wherever you get your podcasts!
This week we went a touch longer than usual, mainly because we dug in to the best performers of the year, both on the men's and women's side of athletics. That could be a standalone podcast itself, as we got into a bit of a debate about it.
Here are the links to subscribe to the pod:
Topic #1: Who Should be the Athlete of the Year?
World Athletics, the organization formerly known as IAAF, will be naming its male and female athletes of the year on Saturday, Nov. 23 live from - you guessed it - Monaco.
This year, a new woman will be crowned champion. Last year's winner, long, high and triple jumper Caterine Ibargüen of Monaco, is not in contention. Eliud Kipchoge, the first man to run under two hours for the marathon, hopes to defend his title on the men's side.
The 2019 nominees are…
The women
Sifan Hassan of The Netherlands is a favourite to win the title of Female World Athlete of the Year, after showing incredible range at the 2019 World Championship in Doha.
Shelly-Ann Fraser-Pryce (JAM)
won world 100m and 4x100m titles in world-leading times of 10.71 and 41.44

won Pan-American 200m title
Sifan Hassan (NED)
won world 1500m and 10,000m titles in world-leading times of 3:51.95 and 30:17.62

broke world mile record with 4:12.33 in Monaco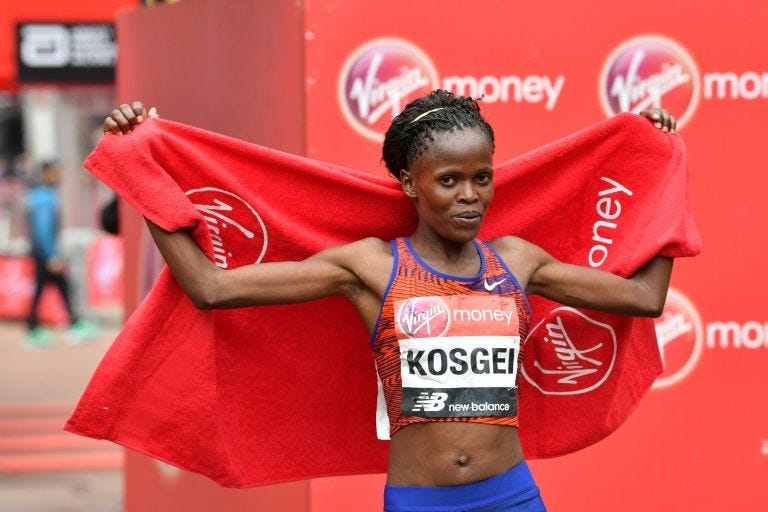 Brigid Kosgei of Kenya did the impossible and shattered Paula Radcliffe's long-standing marathon record this fall.
Brigid Kosgei (KEN)
set a world record of 2:14:04 to win the Chicago Marathon

ran a world-leading 1:05:28 for the half marathon

won the London marathon
Dalilah Muhammad (USA)
improved her own world record to win the world 400m hurdles title in 52.16

won world 4x400m title
Yulimar Rojas (VEN)
won world triple jump title with 15.37m

jumped world-leading 15.41m to move to second on the world all-time list
Who wins?
There are two major boxers in this ring. The first has range like we've rarely seen. Sifan Hassan's world record in the mile is impressive enough. When you couple it with world-leading 10,000m speed, she becomes nearly impossible to pass over. Hassan delivered one of the most tantalizing world championship performances of all-time in Doha last month, when she won double gold in the 1,500m and 10,000m.
Hassan's year of success, however, has been tainted with skepticism since her coach Alberto Salazar and the Nike Oregon Project came under fire for possibly using performance-enhancing substances.
Hassan would have this title in the bag had Brigid Kosgei not broken Paula Radcliffe's best time of 2:15:25, one of the most outlandish records in sports. Kosgei's mark of 2:14:04 in Chicago is THREE FULL MINUTES faster than the second-fastest marathoner in the world, and this was a strong year. Oh, and she won London.
Our pick:
Sifan Hassan, by the slightest margin (although Michael protests this one)
The Men
At just 23, Joshua Cheptegei has shown that he can win on the track like on the cross-country course
Joshua Cheptegei (UGA)
won world cross-country title in Aarhus

won world 10,000m title in a world-leading 26:48.36
Sam Kendricks (USA)
won world pole vault title

cleared a world-leading 6.06m to win the US title
Out of all the finalists, women and men, Eliud Kipchoge is the only athlete to have permeated mainstream news and gained international fame
Eliud Kipchoge (KEN)
won London Marathon in a course record of 2:02:37

ran 1:59:40.2 for 42.195km in Vienna
Noah Lyles (USA)
ran a world-leading 19.50 in Lausanne to move to fourth on the world all-time list

won world 200m and 4x100m titles
Karsten Warholm (NOR)
won the world 400m hurdles title

clocked world-leading 46.92, the second-fastest time in history
Who wins?
It depends. Really, it comes down to this: how self-important is the World Athletics Association? If they refuse to look outside the confines of sanctioned events, Kipchoge, despite his talks at Oxford University and tweets with Barack Obama, barely has a perfectly conditioned leg to stand on. All he did was win the London Marathon. Yawn.
Kipchoge's 1:59 challenge was not sanctioned by World Athletics, and this technicality might not play in his favour. Joshua Cheptegei had an impressive year, and showed that his famous blow-up of 2017 was light years in the past. Quietly, he was perhaps the most consistent track athlete of the year, and he dabbled successfully in cross-country in his spare time.
That being said, here's the bottom line: no matter how weird and illegal was the 1:59 challenge, Eliud Kipchoge accomplished something of note this year: he got people to talk about running. He brought attention to the sport in a non-Olympic year, which might be nearly as hard as holding 2:50 kilometres for an hour and 59 minutes.
So with that in mind, our pick is…
Kipchoge.
Who do you think will take home the crowns? Let us know, we simply can't wait to find out.
Finalist Karsten Warholm was immortalized as a meme, earlier this year
---
Topic #2: More details on Nike Oregon Project's "toxic, cult-like" environment
Mary Cain's video op-ed in The New York Times has blown the doors wide open on Alberto Salazar and the shuttered Nike Oregon Project (NOP). In the midst of grappling with a doping scandal, Salazar is now being accused of verbally and mentally abusing his athletes.
In a story for Sports Illustrated, Chris Chavez broadened the narrative by speaking to former members of NOP, including Cam Levins, Dathan Ritzenhein, and Kara Goucher. All three corroborated Cain's claims that Salazar was obsessed with athletes' weight.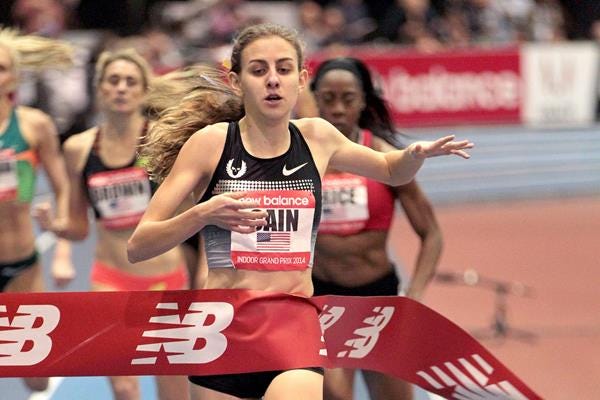 Ritzenhein detailed a particularly heartbreaking story about sharing a condo with Cain, who would steal his Cliff Bars and eat them in her room, too scared to eat in front of Salazar.
The story also revealed the illegitimacy of NOP's coaching staff—mainly made up of Salazar's buddies—including Darren Treasure who presented himself as the group's sports psychologist but had zero credentials. A fact not disclosed to the athletes.
Why this matters:
Following in the same stream as the #MeToo movement, more and more NOP athletes are coming forward and laying claims against Salazar. Amy Yoder Begley, who trained under Salazar until 2011 and now coaches with the Atlanta Track Club, told Matt Futterman in The New York Times that Salazar kicked her off the team for having the biggest butt on the start line. Kara Goucher corroborated this in Chavez's piece, recounting a moment when Salazar weighed Yoder Begley in front of her and told Yoder Begley she was too fat to race.
Amy Yoder Begley was told by Salazar that she was too fat to run
While Cain's op-ed has helped to normalize the conversation and hold abusive coaches to account, it has also revealed just how endemic the issue is in the running community. Since the story's release, there has been an overwhelming response with everyone from rec runners to elites revealing that they too had been a victim of or witness to weight shaming in running.
What to look for next:
Nike has stated that they will be investigating the accusations. But this claim seems murky and feels more like an attempt to control the narrative and put a lid on the scandal. To ensure this kind of abuse doesn't happen again, a third party needs to be brought in to investigate. Otherwise, the same issues will be perpetuated. As long as Nike's "boys' club" holds the reins little change will be made at the ground level.
Hopefully the courage of athletes like Cain and Yoder Begley will inspire others to come forward, not just from NOP but all across the running community.
---
Topic #3: David Rudisha re-emerges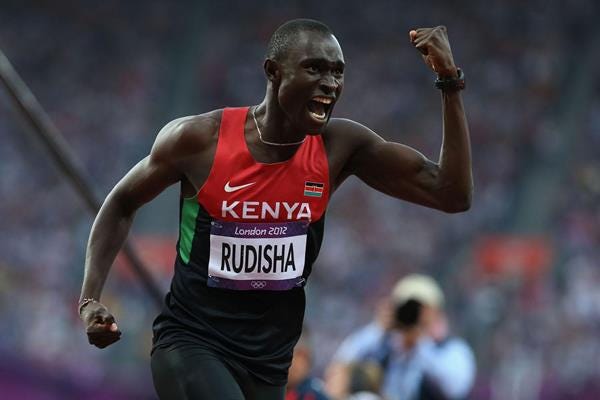 The 800 metre world record holder penned a heartfelt piece in Spikes the other week explaining the struggles he's grappled with over the last few years, including a car accident in August, separating from his wife, and the death of his father last March.
Rudisha's last race was in July 2017. After being sidelined by a glute injury, he quickly faded from the spotlight, replaced by young up and comers like Nijel Amos and Donovan Brazier.
This past September, Rudisha attended the World Track and Field Championships in Doha, watching from the stands. He wrote in Spikes: "I could feel the adrenaline coming: I'd watch athletes in the 800m and I'd feel like talking to them, telling them what mistakes they were making." Needless to say, Rudisha has obviously got the itch. He finished the piece by saying his goal is to qualify for the 2020 Olympics.
Why this matters:
Rudisha's world record run of 1:40.91 in the finals of the 2012 Olympics may have been one of the greatest races of all time. His stunning charge to the front, leading the field start to finish with that trademark silky stride, left the stadium in pandemonium. But the race happened during the peak of Usain Bolt's career and was largely overshadowed in mainstream media outlets.
At the same time, Rudisha was a hero in his home country of Kenya and idolized by track fans all over the world. This kind of fame can go to an athlete's head, though. Too often, great runners left idle by injury or retirement get into trouble...or partying. Sammy Wanjiru, the Kenyan marathoner who died after falling from a balcony, comes to mind.
What to look for next:
While we would love to see a Rudisha comeback, being out of the game for two years is a long time. Rudisha turns 31 this year, and while that's certainly not too old to compete, he'll be going toe-to-toe with some fast, young competitors. He'll have to be in top form to even have a shot at qualifying for 2020. Does he still have the edge (and the speed) to compete?
Regardless of whether he does, we'll be cheering for him. Running seems to be a stabilizing factor in Rudisha's life
---
Topic #4: Let's start a union!
After multiple events (including most distance races) got slashed from the upcoming Diamond League track season, many athletes are not happy. Christian Taylor, a multiple Olympic and world champion (and someone who has won quite a bit of money at past Diamond League events) has proposed that athletes start a union in order to protect their own interests.
Why this matters:
Very few athletes make the bank that someone like Usain Bolt did during his career. By contrast, track and field is a relatively poor sport, with no real revenue sharing and athletes dependent mostly on dwindling sponsorship money, as well as prize winnings. With the Diamond League trimming down their events list, this means that even fewer world-class athletes will get a chance to make ends meet in 2020 and beyond. This especially tough in an Olympic year, when athletes will be desperate to earn qualification into the big show in Tokyo.
What to watch for:
If Taylor can actually rally the majority of pro track athletes to join a union, and then do something like force World Athletics (formerly known as the IAAF) to collectively bargain pay equity for all athletes, this could change the face of track and field.
Also, keep in mind that the Olympics does not pay athletes to compete, and yet is a multi-billion-dollar cash cow for pretty much everyone else involved.
---
Topic # 5: U SPORTS reaches long-awaited gender equity
Canada's national varsity championship will likely have women and men racing the same distance, eight kilometres, by 2020.
Coaches voted almost unanimously, 30-4, to nullify the difference in length between both races. This year, the women raced 8K and the men, 10K. As recently as 2016, women in Canadian universities only raced 6K, as they currently do in the NCAA.
Why this matters
U SPORTS was the last major running circuit in Canada in which women raced shorter cross-country distances than men. National championships, international competitions, and even high-school finals had remained or transitioned to equal distances.
It took a long time to make the shift in U SPORTS because of the belief that it would be harder to recruit women who want to train for the 10K, said one coach. That belief is likely born of a culture in which women were taught to race shorter. Several athletes entered the conference when their championship race was just 6k. With this custom in the past, women will likely seek to challenge long distances as do men.
Why 8, and not 10? And what about the men?
Several men in the conference were upset about the decision to reduce their race to 8K, instead of raising both distances to 10K.
So what's next:
National and international cross-country races are normally 10K for women and men. Perhaps in time, U SPORTS adjusts once again. If they do, this time, we can be sure that both genders will be affected.
Listen and Subscribe to our podcasts:
Our main podcast, featuring interviews, stories and conversations about what matters most in running right now.
Subscribe here:
John Lofranco and Michael Doyle dish their 🔥 takes on every major running event, sharing who they think "won" and "lost" at the race.
Subscribe here:
A quick, 10ish-minute pod covering the top five stories of the week in running
Subscribe here: