🎧 Our Top 5 stories of the week: A Next% Killer is here, plus one weird doping scandal
We're back with our roundup of our five favourite stories from the week. We've created two ways for you to get all caught up: skim through the stories below, or listen to our podcast (you can just stream it right here by pressing play👆). You can now also subscribe wherever you get your podcasts!
Here are the links to subscribe to the pod:
---
Joshua Cheptegei breaks 10K world record🔥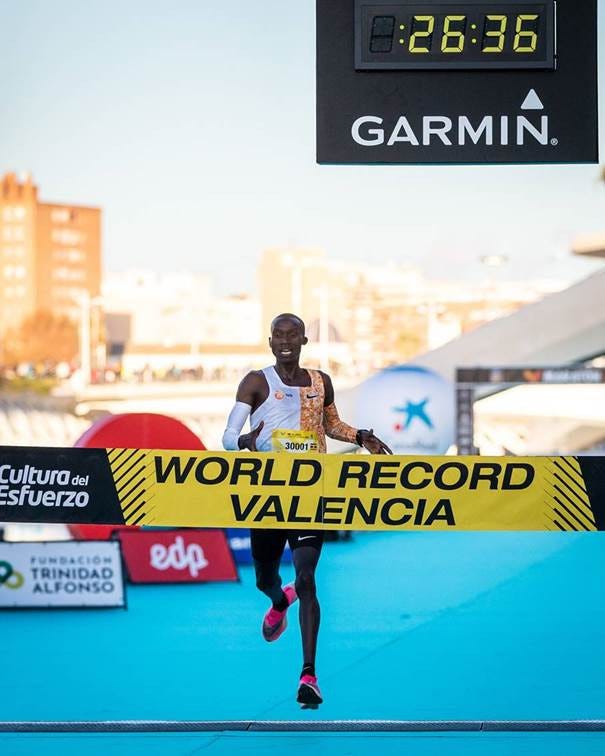 Call it a trifecta.
The 23-year-old Ugandan dropped a hot 28:36 in Valencia on Sunday, December 1, besting Leonard Komon's former record by six seconds. The road race caps a monstrous year for Cheptegei, who was a nominee for World Athletics Athlete of the Year (Kipchoge was also nominated so, yeah, he lost).
If not for Kipchoge's timeless 1:59:40 marathon, (and maybe Kenenisa Bekele's 2:01:41… yawn) Cheptegei would be remembered as the distance star of 2019. His 10k road record was his third big victory in the calendar year - he had already taken home the world cross-country title in March, and won the 10,000m world championship in October.
Cheptegei was hard at work to erase the bad memories of the 2017 world cross-country championship in Kampala, Uganda. Then a precocious 21-year-old, the runner hit a massive wall, with less than a kilometre to go (captured at the :30 mark of this video) as he was leading the race. He fell from first to 30th, and gained some notoriety for his ballsy attempt.
What this means:
Now, Cheptegei is all grown up, and a force over 10,000m heading into an Olympic year. He certainly has the talent to emerge as our next great long-distance star, but does he have the marketability of his predecessors? Does he have Kipchoge's mystique, Sir Mo's charisma? He certainly has guts.
What's next:
Speaking of the Brit, an enthralling narrative is forming around next year's Olympic track final. Farah, who will be 37 next summer, annouced his intention to fight for his third consecutive Olympic 10,000m title. We expect a heated race between the two men, 13 years apart.
---
Is this the Next% Killer?
Saucony announced their answer to the most dominant shoe ever created—the Nike Vaporfly 4%/Next% models. Take a look in some detail in this video:
After about a year and a half of development, Saucony are the first past the post to respond to the Swoosh with a truly "4%"esque" rival. Yes, the Endorphin Pro (as it has been christened) has a carbon plate. But Saucony rightly identified that the special sauce wasn't just in the springy slat shoved in the midsole, but the material surrounding it.
Saucony is calling their particular version of new, super responsive material PowerRun PB. Like Nike's ZoomX, the midsole is made with Pebax, which provides an incredible amount of energy return, and is crucially much lighter as well. This allows designers to pile on the cushioning without having the shoe feel like a brick.
Saucony also incorporated a curved, super-stiff forefoot so that your leg muscles have to do less heavy lifting, particularly in the final 10K of a marathon. Many exercise physiologists pointed to this detail in the Nike shoe as a factor in boosting overall running economy.
The upper is described as almost like a track spike, and overall it sorta looks like many of the other recent Saucony offerings. We think it looks sharp, although it perhaps lacks the moon shoe wow factor of the Nike Next%.
At 7.5 oz for a tester size 9 (men's), it's pretty damned light. It should be interesting to see how it fares when it is released in June 2020. It's coming in at $200 USD, and will certainly be a talking point at next year's U.S. Olympic Trials. We'll see if the likes of Jared Ward and Molly Huddle can find an advantage alongside Nike-sponsored competitors.
The Shoe Wars rage on!
---
French athlete injected with EPO, had no idea🤔
File this one under W.E.I.R.D.
Ophelie Claude-Boxberger, a 31-year-old 3,000m steeplechaser who represented France at the 2019 world championship in October, was told that a blood sample she submitted in September returned positive for erythropoeitin (EPO).
After Boxberger was notified of her failed test on November 20, she told the French media she was puzzled, and we soon found out why. Alain Flaccus, Boxberger's mother's romantic companion, admitted to the media that he injected the runner with the drug while giving her an athletic massage. Boxberger was allegedly sleeping, and was unaware of the injection.
It gets weirder
Around the time of the positive test, the 71-year-old Flaccus served as Boxberger's workout rabbit, chef and personal masseur.
Years before, Flaccus had been temporarily banned from French track and field stadiums when Boxberger accused him of sexual assault. The steeplechaser had retracted her claim, but Flaccus had nonetheless been released from his positions as coach with the French athletics federation and secretary general of the Sochaux-Montbéliard athletics club.
What happens next?
Claude-Boxberger pleads innocence in the face of a possible ban, and now awaits World Athletics' verdict.
---
Tokyo has half a marathon planned
With just over seven months to go until the Tokyo Olympics, the planning committee still has some logistics to figure out when it comes to the marathon. In October, World Athletics (formerly the IAAF) announced that the marathon would be moved 800km north of Tokyo to Sapporo due to heat concerns (the decision came right after the disastrous showing at the World Championship Marathon in Doha).
The decision was sprung on the Olympic planning committee without any warning, and, after resigning to their fate, they've been scrambling to organize the race. So far, they've decided that the first 20km will involve one giant loop around Odori Park in the centre of Sapporo (a site similar to the Champs de Mars leading to the Eiffel Tower in Paris), sharing some of the course used for the Hakkaido Marathon. As for the next 22.2km, it's still up for debate.
Why this matters:
The first and most obvious concern is that there can't be a race without a course. We're sure officials will be able to nail down the second half in the next seven months, but this still involves figuring out road closures, viewing areas, press boxes, and where the athletes will warm up.
Second, the course affects how an athlete will prepare. Nako Takahashi, the Sydney Olympics women's marathon gold medalist was quoted in Japan Running News as saying "Training changes completely based on the time of day, the weather conditions, the course. You have to think backwards from the race itself."
The Tokyo course featured a series of uphills near the end. The Sapporo course—so far—looks relatively flat, favouring pure speed runners.
What to look for next:
The blaring question is why don't officials just make the course two 20km loops around Odori Park? We're sure they can find somewhere along the way to slot in that extra 2.2km. Otherwise, Sapporo looks like a pleasant place to run with clean streets, greenery, and even a river running through it. And if the course does end up being relatively flat, it may prove to be a fast and competitive race, something rarely seen in an Olympic marathon.
We're just hoping that officials will be able to cart the competitors back to Tokyo in time for the closing ceremonies. The men's race is on August 9, the final day of the Olympics. Just how fast are those bullet trains?
---
Could losing races be the key to winning?
Researchers at Northwestern University in Chicago claim that early-career failure is a prerequisite for later success. Their argument, published in Nature, is that by failing, you are forced to learn from your mistakes, targeting weak areas for improvement.
Researchers came to this conclusion after analyzing 776,721 grant applications submitted to the National Institutes of Health between 1985 and 2015, 46 years' worth of venture capital startup investments, and—strangest of all—170,350 terrorist attacks carried out between 1970 and 2017.
The researchers looked at how often an individual failed, how badly they failed, and whether they ever succeeded (the terrorist attacks were considered a success when there was at least one fatality).
The number of failed attempts, according to researchers, was inconsequential. It was the time between attempts that mattered. The closer together the attempts were, the more likely an individual was to correct their mistakes and succeed.
What does this have to do with running?
A lot. Runners fail all the time; even the best. Joshua Cheptegei's epic blow-up at the 2017 World Cross Country Championships comes to mind. Failures like these are often enough to make someone quit the sport for good.
Those that see success in running, however, are the individuals who channel, what Alex Cyr calls, smart perseverance. The study illustrates that losing a race or missing a personal best shouldn't be discouraging, especially early on. Instead, it's an opportunity to look at what went wrong and fix it, whether that be working on the biomechanics of your stride or fueling properly.
Look at Trevor Hofbauer. In 2012, the guy could barely break 30 minutes for 8km. Now, he's splitting 30 minute 10km on his way to a 2:09 marathon. He attributes much of this to just sticking around and staying smart and consistent with training.
Admittedly, assessing your mistakes is easier said than done. In the heat of the moment, it's not always possible to pinpoint the exact screw up. If you can, great. If not, don't try to change everything at once in order to compensate. The study's researchers say "thrashing" about looking for an answer just makes things worse.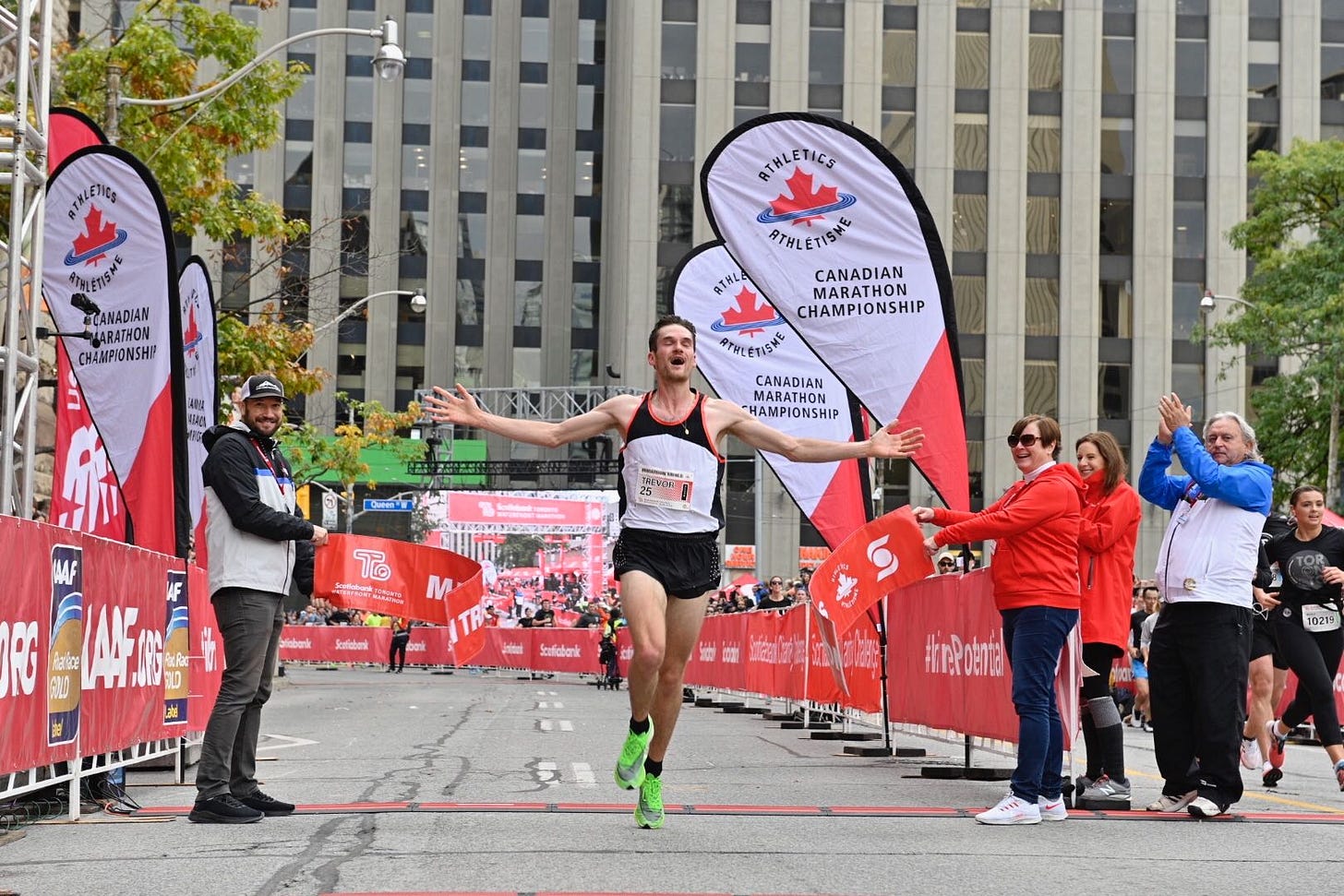 The takeaway
Realistically, the results of the study are pretty common sense. The adage "learn from your mistakes" arguably sums the study up. But it is reassuring to know that from an empirical standpoint failure is part of the growing process. Keep this in mind next time you have an abysmal burnout in the last kilometre of a race. Failure happens. It's what you learn from it that matters.