We're back with our roundup of our five favourite stories from the week. We've created two ways for you to get all caught up: skim through the stories below, or listen to our podcast (you can just stream it right here by pressing play👆). You can now also subscribe wherever you get your podcasts!
Here are the links to subscribe to the pod: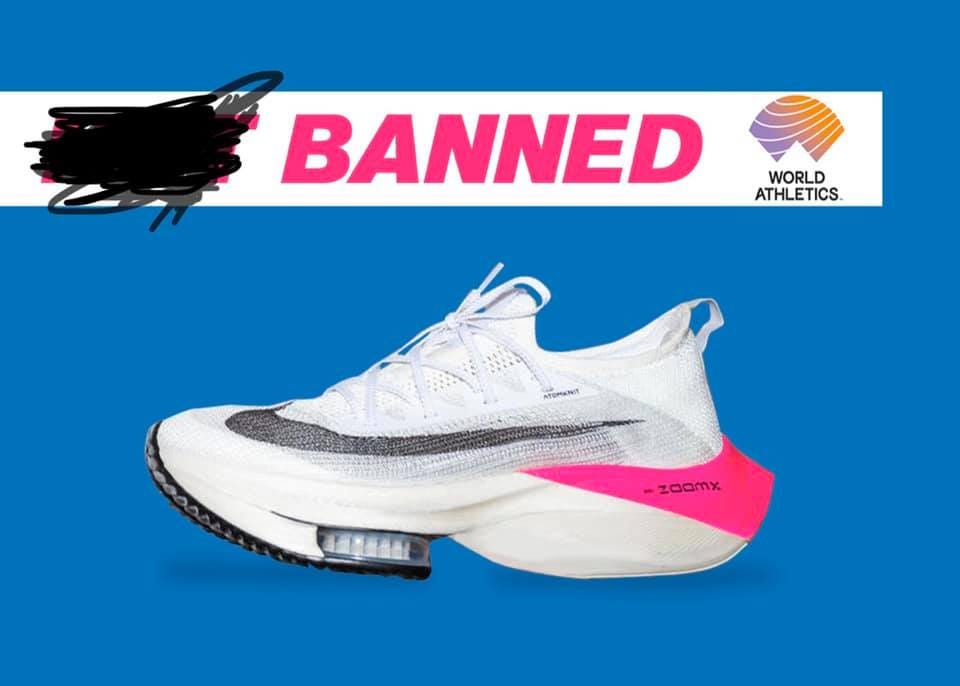 World Athletics modifies its rules, sparing one Nike shoe but banning another
Last Friday, World Athletics (the sportocracy formerly known as the IAAF) modified their existing rules regarding footwear, in response to the wildly popular and effective Nike Vaporfly 4% and Next% shoes.
Here's a breakdown of the modification:
The sole must be no thicker than 40mm.

The shoe must not contain more than one rigid embedded plate or blade (of any material) that runs either the full length or only part of the length of the shoe. The plate may be in more than one part but those parts must be located sequentially in one plane (not stacked or in parallel) and must not overlap.

For a shoe with spikes, an additional plate (to the plate mentioned above) or other mechanism is permitted, but only for the purpose of attaching the spikes to the sole, and the sole must be no thicker than 30mm.
What this means:
It appears that while the goal of World Athletics clearly seems to be reasserting their control over the running world, it wisely conceded to the mighty Swoosh. The existing Next% shoe, which has been on the market and the feet of thousands of marathoners crushing PBs for months, fits snugly within this new criteria. This allows World Athletics to save face, while not starting an outright war with the world's most powerful running brand.
Nike's prototype, the AlphaFly, however is properly getting the boot for the Games.
The mysterious shoe that was designed for Eliud Kipchoge's 1:59 jog in a Viennese park last fall reportedly doesn't fall under these new guidelines, and one could reasonably suspect that this was by design—a sort of retribution against the company and its athletes for using the Vaporfly technology in secret to dominate the 2016 Games.
There is speculation, however, that a variation of the Alphafly, with a lower, compliant stack height and a single carbon plate, could be produced in time for use in Tokyo. Obviously, this ban has sent Nike into panic mode, as the Kipper and other top-tier Nike athletes were training with the Alphafly in order to gain further advantage this summer. Now they've just have to run about 4-5% faster than they actually can, just like the rest of us normies.
It will be interesting to see how Nike responds to this partial ban, and what their strategy will be moving forward. Don't be surprised if you see a global "limited release" of an Alphafly variation at some point in April, just under the wire to satisfy the powers that be in Monaco.
The Shoe Wars - The Arms Race Intensifies
One interesting caveat to the new rules governing shoes is that any new shoe technology developed after April 30, 2020 will have to be available on the open market for four months before an athlete can use it in competition.
What it means
Shoe companies that want to stand a chance at competing against Nike and its Vaporfly line at the Tokyo Olympics will have to release their prized prototypes (you know, the ones we've been waiting for since 2018) sometime in the next three months.
What's the status on these releases?
Brooks
The Hyperion Elite drops on February 27 and WIRED loves it.It contains a carbon fibre plate, and Brooks' proprietary DNA Zero midsole, which allows for a light shoe, despite a thick midsole.
Saucony
The Endorphin Pro will be available in June 2020. Because its technology was developed in 2019, they should be fair game for Tokyo.
New Balance
The Fuel Cell TC comes out on April 1.

Hoka One One
The Carbon X was released last spring, and became known as the cheaper, lower-rung Vaporfly. It is still Hoka's top shoe.
Adidas
Whispers are becoming murmurs, and murmurs are becoming Runner's World articles. A carbon-fibre prototype clearly exists, so you can likely expect a public release before April 30.
Asics:
… you there?
What's next?
Behind the scenes, shoe companies are probably scrambling to meet the April 30 deadline. That might be more complicated than we think, especially because the bulk of shoe manufacturing passes through China. The problem: not much passes through China right now. Attempts to quell the fast-moving Coronavirus continue to result in mass quarantine and the limit of trade. Road blocks in shoe production might complicate release plans. Surely, non-Nike athletes around the world wait patiently for the formal release of their brands' respective super-shoe.
---
World Athletics Indoor Championships cancelled
Last week, World Athletics announced that the World Athletics Indoor Championships, scheduled to take place March 13 to 15 in Nanjing, China, would be postponed until March 2021 due to concerns over the Coronavirus.
The Coronavirus, which originated in the Chinese city of Wuhan, is a new strain of the virus, causing illnesses ranging from the common cold to severe respiratory diseases. Since rearing its head on December 31, the virus has spread across the globe with cases reported in Canada, the U.S., the United Kingdom, Germany and Japan, to name a few. In China alone, there are over 17,000 reported cases and 361 deaths, prompting countries such as the U.S., Australia and Vietnam to close their borders to arrivals from China until the virus is contained.
What it means:
On the advice of their medical team, World Athletics decided it was best for athletes and coaching staff if the championships were postponed until next year. World Athletics did contemplate relocating the event to another country, with a number of places volunteering to host, but, ultimately, announced that "given concerns still exist regarding the spread of the virus outside China, we have decided not to go with this option, as it may lead to further postponement at a later date."
This is sad news for athletes who had achieved championship standard and were prepared to go. They will likely have to hit standard again in order to qualify to compete in Nanjing in March 2021.
While the World Indoor Championships aren't a marquee event in the same way the Olympics or World Championships are, they do provide an opportunity for athletes to get some exposure to the world stage—experience that could have been useful as they gear up for the Olympics this summer.
That said, missing the championships isn't nearly as unfortunate as contracting a contagious disease transmitted through animals, and, you know…dying.
---
LetsRun's bro problem
On January 16, Outside Magazine staff writer Martin Fritz Huber published a story about the male-centric message boards of running news site LetsRun.com. For years, the message boards have been a source of both great resource and toxicity in the running community, dominated by what Fritz Huber calls "high-mileage frat bros". Many professional and collegiate female athletes have turned their backs on the site after witnessing anonymous users dissect and dismiss their appearances and performances.
Fritz Huber points to Mary Cain as an example. On LetsRun's message boards, she was belittled with users claiming she looked like a man. This was all while Cain was still in high school. Leah O'Connor, a former collegiate star who competed for Michigan State in 2015, is another example. After an impressive race, she visited LetsRun hoping to be greeted by congratulatory messages and words of encouragement. Instead, she found users making derogatory comments about her appearance.
leah_oconnor
Someone recently sent me screenshots of some
@letsrundotcom
message board posts from 2015 (I'd honestly forgotten about them, scroll to read)
I hesitated sharing because this happened years ago, but if we're going to fix girls sports, this might be one place there's room for improvement.
When these comments were posted I was at the peak of my collegiate career, about to sign a professional contract. I'd just run one of the best races of my life and I remember being excited to go to this website designed to share track and field news. I went online expecting to find words of support, but I was met with this anonymous dumpster fire.
At the time, those threads hurt me deeply... but I was too afraid to speak up. I didn't want to be too disruptive, I was embarrassed, and I didn't want to draw attention to that misogyny and objectification.
Just a wee little college student entering into the professional world, I also remember the sudden pressure I felt to be attractive enough, skinny enough, and charismatic enough.
At 23, I remember establishing a belief that this kind of objectification was normal and somewhat tolerable in our sport. I remember being told to grow thicker skin, to move on, and to just be grateful I was being talked about at all.
After reading other obscene posts about women in our sport, I decided the best way handle it was to boycott the anonymous LetsRun message boards entirely, but I know that passivity isn't the answer.
This wasn't, and isn't, appropriate. Platforms like this SHOULD NOT exist.
Change begins with the conversations we have. Girls, don't stay quiet. Don't tolerate the bullshit.
#fixgirlssports
In response to the claims of misogyny and racism, brothers Robert and Weldon Johnson, cofounders of LetsRun, have started 2020 by trying to clean up the message boards while still maintaining the site's commitment to anonymous posting.
What it means:
According to Robert Johnson, one of the main issues with the message boards is that a single person can create multiple user profiles, allowing them to bolster their opinion by posting from multiple accounts. To prevent this, Johnson told Fritz Huber that LetsRun will be limiting users to one fake identity per thread per week.
Doesn't seem like much of a solution, does it?
This issue of anonymity has plagued the Internet since its early days in the public sphere. While allowing users to remain anonymous does promote a more open and honest discourse, it also allows cowardly individuals to spread hate while not being held accountable.
While Johnson doesn't condone the site's occasional hateful post, he defends the message boards by saying that they can't be misogynistic or racist because the guys who get bashed the most tend to be white guys (Are you cringing? Because we are).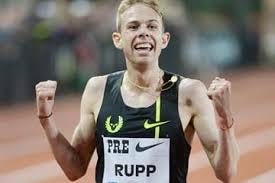 Apparently, Galen Rupp was insulted so badly and so often on the message boards that his coach, Alberto Salazar, and University of Oregon athletic director, Vin Lananna, confronted Weldon Johnson at a track meet, telling him to do something about it. After that, the moderators installed a filter making it impossible to include "gay" and "Rupp" in the same post.
What's next:
It's fairly obvious that LetsRun's new restrictions will do little to curb toxic posts on the site's message boards. The site will continue to promote an insular running culture, isolating groups, such as female athletes, who have as much right to engage with and discuss the sport as any of LetsRun's users.
If we want running to grow as a sport, we need to include a variety of voices in the discussion, and this starts at the ground level with the sport's fans. Rather than letting people spread hate, LetsRun needs to find a way to keep its users accountable.
Also, it's 2020. Who still uses message boards?
---
Andrea Seccafien breaks Canadian half-marathon record
Just two weeks after Natasha Wodak became the first Canadian woman to break the 70-minute barrier, the 29-year-old Seccafien bumped her from the record books.
Seccafien, a 2016 Olympian in the 5,000m, set a new record of 69:38 - three seconds faster than Wodak's time - at the Kagawa Marugame half-marathon. Clearly, Wodak took the news in stride.
What it means:
Seccafien's run adds to the massive pile of Canadian women's distance records set since 2019:
Name Distance New Record Year Set
Gabriella Debues-Stafford 1,500m 3:56.12 2019
Gabriella Debues-Stafford Mile 4:17.87 2019
Gabriella Debues-Stafford 5,000m 14:44.12 2019
Andrea Seccafien Half-marathon 1:09:38 2020
Malindi Elmore Marathon 2:24:49 2020

What's next?
Will Seccafien, who currently trains in Australia, aim to qualify for Tokyo 2020 in the 10,000m? Or will she try her hand at the marathon?
The track might be the path of least resistance for Seccafien, who has yet to race the 42.2k. Also, making Canada's marathon team has never been harder - she would likely need to run faster than Rachel Cliff's 2:26:56.
That being said, we hope to see Seccafien in the marathon in the future. She is one of the few Canadians who have the potential to challenge Malindi Elmore's new national record of 2:24:49.