Discover more from The XC
Real talk about the sport and culture of running
Over 1,000 subscribers
The brief wondrous career of Greg Andersen
In honour of what would have been the OFSAA Track and Field Championships this past weekend, we take a look at one of its most enduring legends
A note from the editors: The XC would like to acknowledge the Black Lives Matter movement and its current fight. This story is in no way meant to divert or downplay the current issues going on in the world. The XC recognizes that a lot of work needs to be done in the running community in particular, and we will be looking inward so that we can contribute in making this community more diverse and just. That will include a commitment to elevating the voices of BIPOC writers and runners. We simply offer this story as a tribute to all of the high school athletes who missed out on track and field championships this year.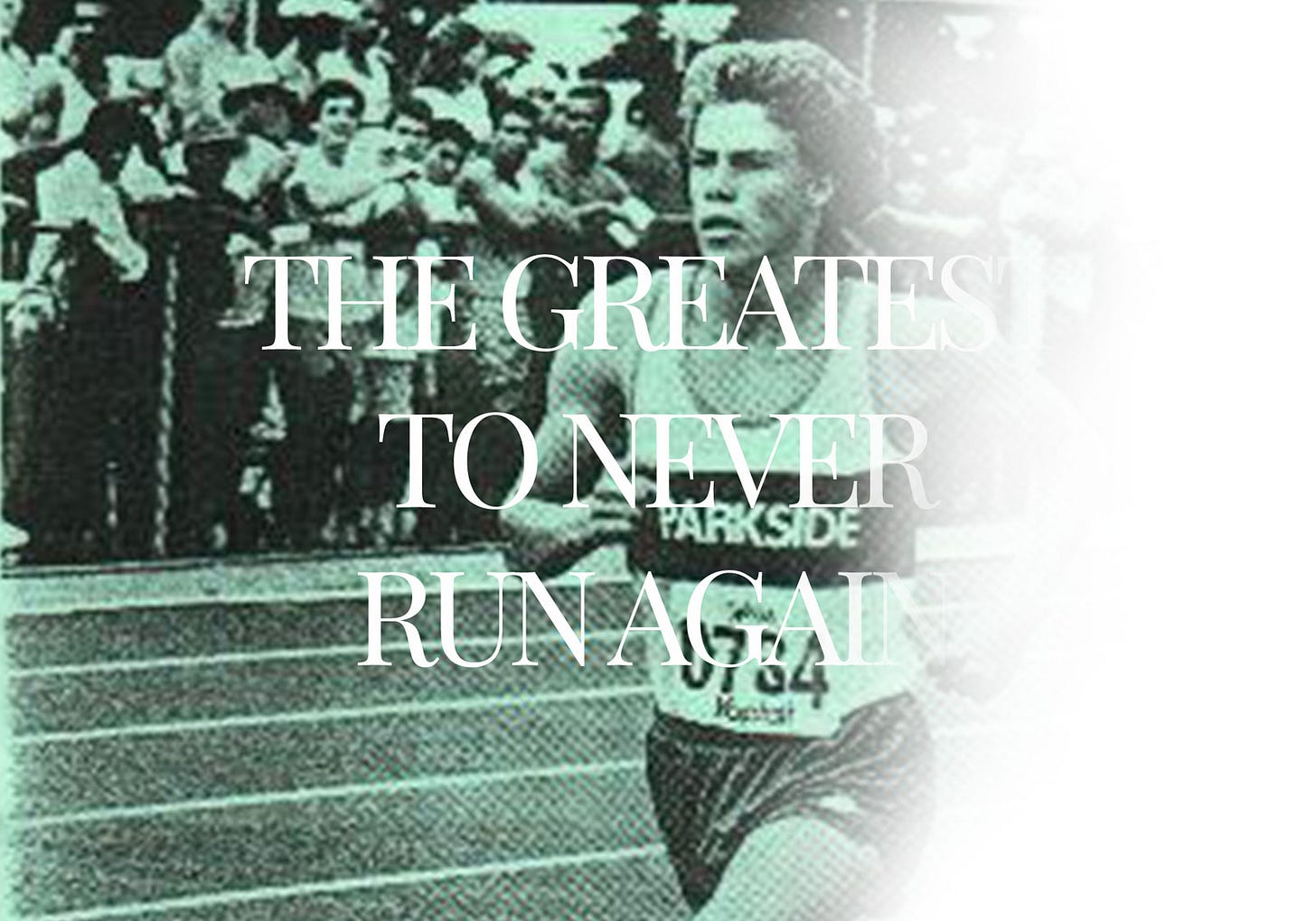 By Andrew Cruickshank
A message board post claimed he lived in St. Louis. An old competitor had heard rumours he'd set roots in Louisiana. Others swore he was somewhere along the coast of Florida. Regardless of the location, one factor remained consistent: After running 8:00.20 for 3,000m in high school, setting the Canadian Interscholastic record and the Ontario Federation of School Athletic Associations (OFSAA) record, Greg Andersen, seemingly, vanished.
Not vanished in the missing-person sense, nothing that sinister. More of a disappearing act, exiting the sport of track and field for good—an act some running devotees still find puzzling. Yet, many great athletes have faded unceremoniously from the sport, so why does the Hamilton-native's performance remain lodged in the collective consciousness of Ontario runners?
In part, it has to do with unrealized potential. Andersen's OFSAA 3,000m record has stood since 1987, coveted by many runners who've gone on to compete against the best in the world. Logically, it would reason that Andersen had the potential to be better than these runners. As a result, when he disappeared from the track scene, fans started searching for an excuse—a nagging injury, mismanaged training—something to explain what happened. But with no concrete answers, people have been left to speculate for the last 33 years.
This speculation has been aided by the periodic injection of updates and rumours. There was a short resurgence in interest around 2011 when grainy footage of Andersen's race appeared on YouTube. In a subtle marketing move, the video has been embedded on the OFSAA past results page, entwining the record with the legacy and hype of the championships. And there is hype around OFSAA. An old joke among Ontario runners claims that the OFSAA Track and Field Championships rank just below the Olympics in terms of prestige. While this mainly speaks to the elitism of the event, it does hold some truth (at least in the eyes of the competitors). Each year hundreds of coaches and athletes devote themselves fanatically to the championships. And why not? As one of the largest track and field meets in North America, OFSAA is a breeding ground for legends.
It's where Mohammed Ahmed charged to 3,000m victory, cementing his status as a distance phenom; it's where Gabriela DeBues-Stafford electrified crowds with her stunning 1,500m finishes; it's where Derek Drouin showed early fans that gravity had no hold on him; and it's where Andre De Grasse debuted the blistering speed he would eventually challenge Usain Bolt with.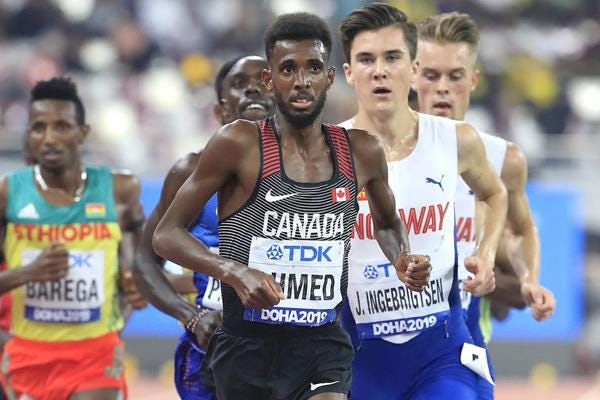 Mohammed Ahmed
Some of these legends fade with time while others continue to be bantered about on long runs years later. Andersen's is a legend that has endured. No thanks to his own doing. As Andersen puts it, he's kept a low profile over the intervening years. Not for any particular reason. Certainly not out of a fear of being recognized (even the most diehard track fans realize that an OFSAA gold still puts you galaxies away from being the next LeBron James or Sidney Crosby). Andersen is proud of what he accomplished in that race, but he hasn't let it dictate his future.
When Andersen picks up the phone, there's a brief flutter of chaos. "Hold on one sec," he says, muffled voices in the background. He moves to another room and shuts the door. A delivery truck has just shown up at his home in St. Louis (never doubt the internet's all-knowing veracity) with a new sofa. "My wife and my son can handle that, I think."
Speaking to Andersen over the phone is like speaking with an old friend. He's as interested in you as you are in him. Did you run in university? Do you have any other writing gigs? He asks.  His amicable manner downplays how difficult it was to find him. It took pulling a delicate thread woven through Andersen's past to reach his present. After tracking down a handful of sources, it was Al Duncan, Andersen's high school coach, who finally knew how to get in touch with him. The two still call one another around Christmas each year.
There's a reason Andersen's hard to pin down, he's moved around a lot. St. Louis has acted as a bit of a home base over the years, but he's bounced between Pensacola, Fla., Cleveland, and Texas, mainly for work with Monsanto, an agricultural biotech company. He worked at Monsanto for 10 years and met his wife there, but in 2002, signs surfaced that his section of the company might face bankruptcy. He made a quick pivot, taking a job as a business manager at Mississippi Lime, a calcium product producer. He's worked there for the last 17 and a half years.
It's been a long time since anyone's asked him about his OFSAA race, not since college, he thinks. It takes some searching to remember that period in his life, memories blurred at the edges, but the race itself still stands out in Andersen's mind, as it does for many who witnessed it.
---
IT is Saturday afternoon on May 30, 1987. A menacing thunderstorm sweeps through Hamilton, Ont. around noon, washing over McMaster University's newly built stadium. Wind batters the track and stands, knocking out the photo timing system. Hats clutched to heads, officials muddle about trying to kickstart it back to life, but the system's fried. When the rain stops, drenched timers stand at the start line, stopwatches in hand. The 3,000m, scheduled for 2 p.m., will be hand timed.
"It was hot and humid that day," says Nick Tsioros, one of the 3,000m competitors. He had spent his morning luxuriating in the AC of nearby Hamilton Mall. As start time approaches, the wind settles into a whisper and the temperature hovers around 27 C.
Bill Urie, Andersen's coach at Hamilton Olympic Club, as well as the distance coach for McMaster University at the time, watches Andersen through the fence of the athlete enclosure, an apprehensive stare. The 1,500m final the day before had not gone as planned. Urie says he's never been one for worrying about records, but is confident that had things gone differently, Andersen could have broken Dave Reid's then-record of 3:45.
"In the 1,500, in the first 100 metres, a guy went down," Tsioros says. Off the start line, Andersen clipped the heel of a competitor who toppled like a felled tree. Adrenaline kicking in, Andersen vaulted the competitor, stumbling on the other side, hand nearly grazing the track before regaining his balance and taking off. "They didn't call the race back," Tsioros says, "All of a sudden you had Andersen and [Brendan] Matthias running up front."  
Spooked by the incident, Andersen took off like a horse during a lightning storm, rocketing through a 57 second first lap. Slowing slightly, he pulled the field through 800 metres in 2 minutes. Matthias stuck close for as long as he could, but Andersen pulled away, winning decidedly in 3:47.60, a second off of his 3:46 personal best. Matthias trailed in 3:51.56.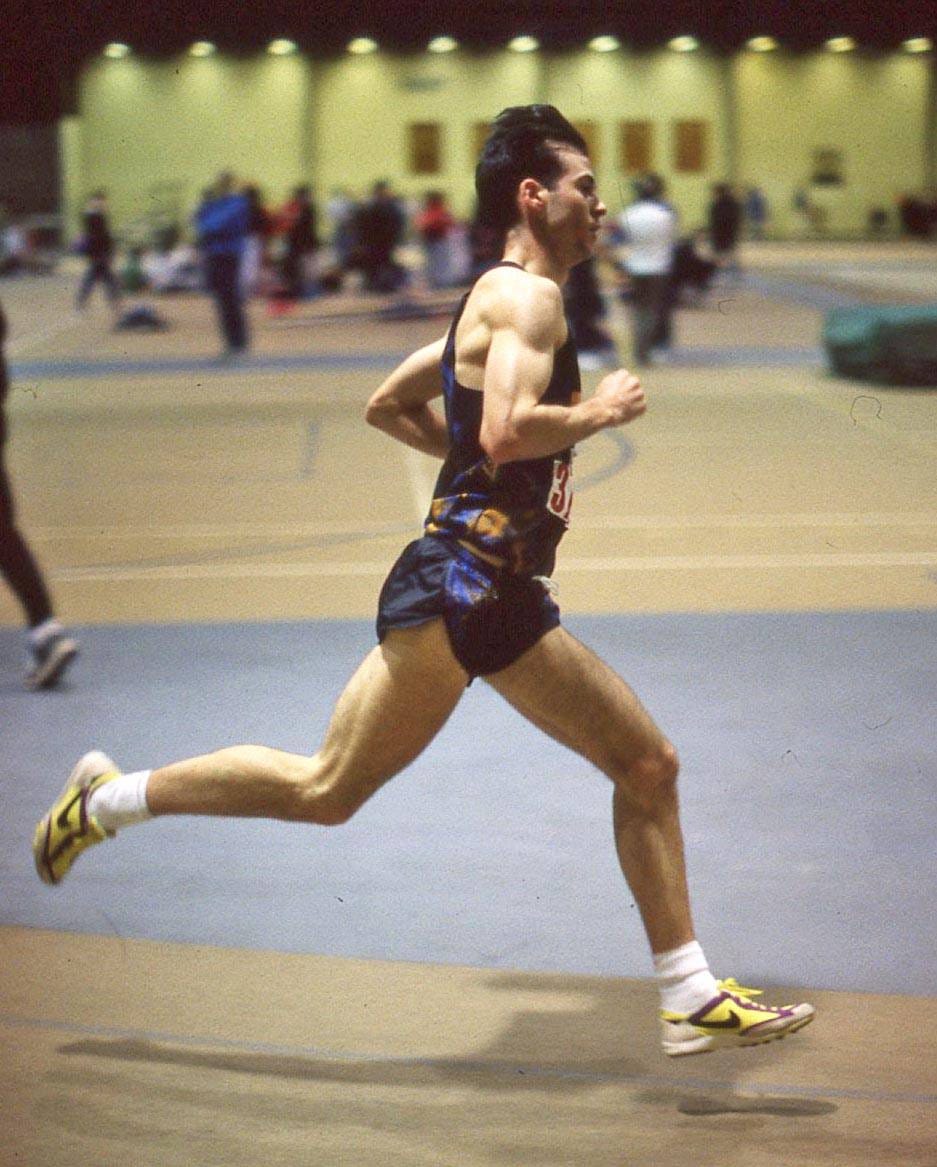 Brendan Matthias; Photo Credit:
George Aitkin
While the chaotic start didn't help, Urie also credits the missed record to Andersen's warm up. "With the 1500m," Urie says, "I saw Greg 20 minutes before his race; he's talking to people, he's having a good time, and people were sort of not leaving him alone. They were wishing him well and all that sort of stuff. So, I was concerned that he wasn't going to be properly focused on the race. He would never say to someone, 'Hey, leave me alone.' He was that type of kid."
Hence Urie's post outside the athlete enclosure prior to the 3,000m. "I said to him, 'OK, you come to the fence and sit down and face the fence,'" Urie says. "And I sat there and I was shooing away anybody that was coming up to wish Greg a good run."
But there's something different about this warmup. The 1,500m final had shaken Andersen. The 1987 championships constituted his final high school races. Missing the 1,500m record meant there were no second chances. It would remain chiseled in the history books, untouched until the era of Kevin Sullivan. This fact weighed heavy on Andersen's shoulders as he laced up for the 3,000m.
"I was fortunate that I managed to win [the 1,500m]," he says, "but for sure that made me want to run faster on Saturday."
---
ANDERSEN'S introduction to running doesn't include any mythic stories. No 10-mile slogs to school every day. No raw-egg drinking, chicken-chasing training montages. He was, simply, a kid who enjoyed running. That isn't to say there weren't glimmers of talent early on: The slack-jawed expression of his elementary school teacher after blowing through a gym class mile, or a handful of races against older runners through Hamilton's Gage Park. But most of all, Andersen was committed.
At 12 years old, he joined the Dundas-Ancaster Track Club. It was here that Andersen developed a love for the sport. Diligent about every practice, he would even show up Saturday mornings throughout the winter when the club screamed through the hallways of Highlands Secondary School. The coach was the father of a friend who knew how to make running fun.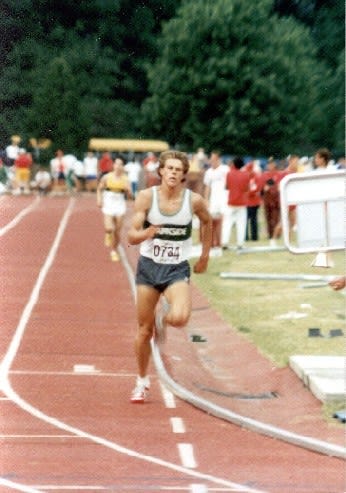 Greg Andersen; Photo credit: Ron Bunston
When Andersen entered Grade 9 at Parkside High School, he left the Dundas-Ancaster Track Club and started training full time with the school team under Al Duncan. Duncan still recalls when Andersen first came out for the team. "I can remember going to a track and he didn't know what an interval was," Duncan says. Andersen's inexperience proved to be a non-issue as he quickly developed into one of Duncan's most coachable athletes. "I didn't have to tell him anything."
It was also during his grade 9 year that Andersen realized he might have an aptitude for running. "I remember being up there, but not right at the front during OFSAA cross country in grade 9, and thinking I was okay," Andersen says. "That was the first time I really ran against runners from all over the province." After the race, however, his confidence was quickly checked when his mother couldn't stop raving about Richard Charette, the runner who'd won.
"I cannot believe how fast he ran up the hill," she said. "He's amazing. His legs were turning over so quickly." Recognizing that he was far from the best, Andersen diversified, trying other sports. His father was a devoted tennis player at the time, convincing Andersen to play on the school team each fall, and in the winters, he would swim and cross country ski.
Even though Andersen didn't see his immediate potential, Duncan did. By the end of Andersen's Grade 9 year, Duncan was deliberating over how to best serve Andersen's future. Lassoing yourself to a star pupil like Andersen can be a once-in-a-lifetime opportunity for a coach, opening doors at the national level. But career trajectory was the last thing on Duncan's mind. For him, it's always been about the athletes, and with Andersen, he knew he couldn't coach him alone.
Looking for help, Duncan reached out to Bill Urie. At the time, Urie had already achieved success coaching Grace Verbeek, an 800m Olympian. Trying to convince Urie to take over Andersen's training, Duncan told him, "I have a boy like I've never seen before."
Under Urie, Andersen flourished. The only hiccup was a rolled ankle in gym class that put him out for the OFSAA Cross Country Championships in grade 10. "He would have been in the top three," Duncan says. Andersen returned to cross country the next year, winning OFSAA in 1984, 1985, and 1986, bringing his OFSAA medal count to 7 golds leading into the 1987 track season.
As a Grade 12 student, Andersen won the 1986 senior boys 3,000m in 8:10.55, setting an OFSAA and Canadian Interscholastic record, beating a stacked field of runners, many a year older than him. He capped that summer off with wins in the 1,500m and 5,000m at the National Junior Championships, and a gold medal in the 5,000m at the PanAm Junior Championships in Florida.
He was quickly developing into the golden boy of Canadian running, but that didn't mean he was infallible. In March of 1987, he competed at the World Junior Cross Country Championships in Warsaw, Poland. Joining him on the team were Brendan Matthias and Nick Tsioros, two of his future OFSAA competitors. Up to that point, they'd viewed Andersen as untouchable. "He was the top dog. Everyone knew who he was," Tsioros says. But then "Andersen blew up."
Urie, who'd been in Warsaw coaching the Canadian women's cross country team, corroborates. "He was favoured to do extremely well. He would have been the top Canadian," he says. Instead, "Greg ran terrible. I think he was the fifth Canadian and placed 106th."
Andersen also remembers the race, though not fondly. "No good explanation on why I didn't run well," he says. "The whole experience was definitely eye opening, competing against athletes from all around the world." This was the third World Junior Cross Country Championships Andersen had competed at. He'd also taken part in the 1986 World Junior Track and Field Championships in Athens, Greece. Despite the accumulated experience, he still found these international meets intimidating. "I mean, at the start of those things you had the starter talking in a different language, and trying to figure out exactly when the race was going to start," he says.
After Warsaw, Andersen's Canadian teammates smelled blood leading into the 1987 summer season. To regroup, Urie and Andersen took a step back, reassessing and planning. Urie was never one to over-train an athlete, but they worked hard for the next two months. By the time May rolled around, Andersen was in the best shape of his life.
Two weeks before OFSAA, Urie had Andersen run a fast 2 km followed by a 1 km repeat on a grass oval next to McMaster. "I remember I ran the 2 km in 5:20," Andersen says. "And then I ran 2:30-something in the 1 km right after."
Urie and Andersen never talked about times leading into a race, the only goal was winning, but this workout was a clear indication that Andersen was ready to burn rubber. "That [2 km] was eight-minute pace," he says. "If I could do 2 km at eight-minute pace, I knew I could do something close to that for 3 km."  
---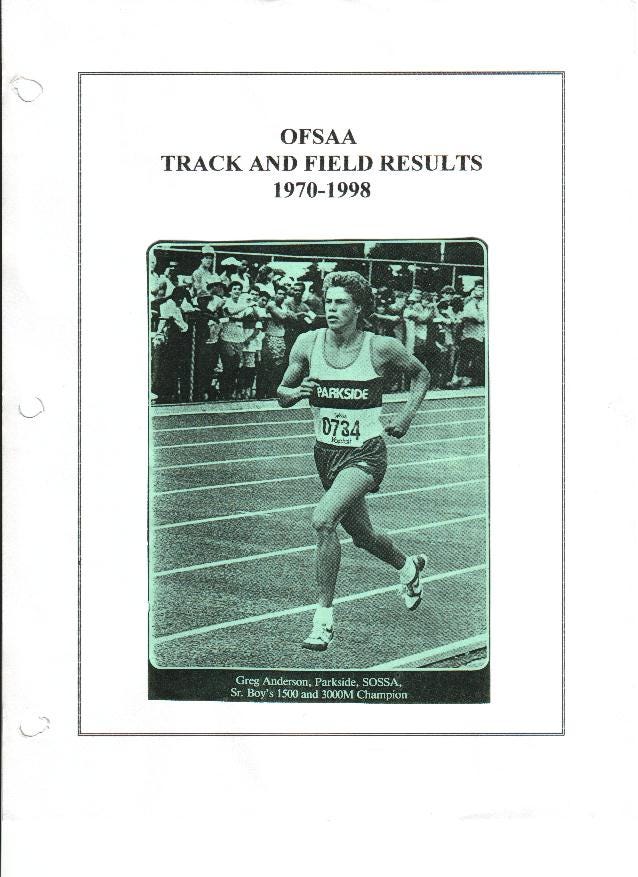 FROM the gun it's clear this is not your typical championship race. Within the first 200 metres, Sean Cleary from Georgetown surges to the front, opening a 10 metre lead. A chase pack consisting of Tsioros, Matthias, Andersen, and Guy Schultz from Timmins trail comfortably, unconcerned about the gap.
Holding the lead through 400 metres, Cleary clocks 61 seconds, stretching out the field like an uncoiled slinky. There are few pockets left for athletes to tuck in and coast. Antsy, Andersen moves through the bend past Tsioros to take control of the chase pack. Tall, broad shouldered, wavy blond hair, he looks like a man running against children. His stride is long and loping, toes brushing the track, arms held low, pumping with authority as if gut punching some invisible opponent.
But he doesn't hold control for long. Schultz surges past, sleek-looking, low to the ground, his stride clipped and efficient. Then Tsioros to the lead. Back to Schultz. Matthias, meanwhile, shadows Andersen's every move. The chase pack reels Cleary in by 700 metres, Cleary melting through them like water, ejected out the back. They reach 800 metres in 2:07, the pace slowing slightly.
Tsioros and Schultz continue to trade off the lead, searching for cracks in Andersen, something akin to Warsaw, but as they near halfway, Andersen is tucked in, looking comfortable. "We went through the mile in 4:24," Tsioros says. "I had led for probably 800 metres there, and then I was out."
Sensing another lag in pace, Andersen takes over, slowly easing the accelerator forward. With three laps to go, Tsioros and Schultz are gone, but Matthias is right on him, making it a two-man race. Matthias wants revenge for the 1,500m the day before and isn't going to be shaken easily. The fence around the outside of the track is lined with spectators, urging the two runners on. A modern-day amphitheatre. They're here to watch someone suffer.
Andersen is not one to disappoint. With 800 metres to go, he's still leading, Matthias glued to his shoulder. As Andersen passes the timers, he glances up at the race clock. It reads 5:59. They're on pace for 8:10. Duncan's wife, who was watching from the stands, described Andersen's look to the clock as a second starting gun. Puffing out his cheeks, releasing a deep exhale, Andersen starts sprinting. "He just took off," Duncan says.
Andersen runs the next 200 metres in 28 seconds, opening a 30 metre lead, making it look like him and Matthias are in separate races. Murmurs run through the crowd that he's miscounted the laps, but Andersen is fully aware of what he's doing.
"Getting down towards the end of the race, I started wondering whether I could actually kick for two laps instead of just kicking for one, and thinking, 'Well, what the heck? I'll try it.' And then I just started accelerating," Andersen says. "I ran about as hard as I could on that second last lap." He splits the 400 in 60 seconds. Matthias is no longer in the picture. It's just Andersen racing against the clock with one lap to go.
"In my mind, I kind of eased off a little bit right before the start of the last lap and pretended like it was an interval, you know, just the last lap of a race, and then accelerated again." The accelerator remains slammed to the floor as Andersen pushes through a world of hurt, his shoulders starting to rise up around his neck. With 200 metres to go, the announcers start playing the theme song to Chariots of Fire.
"The last 200, 150, Chariots of Fire kicked in, and I was like, 'Oh, you've got to be kidding me,'" Tsioros says. While Andersen storms down the homestretch, minor dramas unfold throughout the race. Tsioros, who's in fourth, is sneaking up on Schultz in third. "My sister, with 150 metres to go, started yelling 'Go Nick!' Guy turned around, saw me, and then blew off," Tsioros says. "He always had a good sprint."
Up front, Andersen has crashed through the finish line. His last 800 metres clocked in at two minutes and one second. Hands on hips, catching his breath, he's just smashed his own OFSAA record, running a hand timed 8:00.20. "The hand time was sent right to a display that said 8:00.20," says Rich Gelder, a teammate of Andersen's at Hamilton Olympic Club. "That was unheard of in high school."
Matthias finishes second in 8:13.80. Schultz in third in 8:31.70, and Tsioros fourth in 8:33.10.
"The first thing was to win," Andersen says, "and so I was very happy about that. And then I wanted to PR, and so I ran faster than I had the year before. So, that was all good. I didn't really think about the time that much in and of itself."
Dartmouth's distance coach, Vin Lananna, watches from the stands, impressed. Andersen has committed to attending university there next year. But for now, he soaks in the moment, high-fiving competitors. 
---
WHEN I ask Andersen about the years after 1987, he hesitates. "I'm probably… Yeah, yeah, we can talk about that a little bit. I tend not to. Well, I haven't really talked to anybody since high school or college," he says. "I tend to keep a low profile. Not intentionally, but I really haven't talked to people that much about it."
A week after running eight flat, Andersen was headed into the trails near McMaster for an easy run when he tweaked his hamstring. "Right up top," he says. "I had to take some time off." This was the first of two inauspicious injuries that would occur that summer. In early August, only a few weeks before heading to Dartmouth, Andersen's family was doing some landscaping in the backyard. "We ordered nine railroad ties and they were sitting in the driveway one day when I got home," he says. "I went to snip the wires supporting them and three of them just fell over. One of them caught me on the side of my leg, just below my knee. I was really lucky it didn't do much damage."
Urie remembers getting a phone call from Andersen right after it happened. "We were fortunate in Hamilton to have Dr. David Levy who ran the sports injury clinic," Urie says. "We had [Andersen] see Levy immediately. There weren't any breaks or tears or anything, but the swelling in his leg was absolutely horrendous. His leg was about twice the size, so it was a very slow rehabilitation process for Greg. I think that took through the month of August."
Andersen arrived at Dartmouth in September far from eight-minute shape, but still prepared to run. "[Lananna] spent a lot of time trying to tailor workouts for athletes, trying to think about when they should run, when they shouldn't run," Andersen says. "I never felt for a second that I over-raced or over-trained when I was there." In Andersen's freshmen year, Lananna coached the team to second place at the NCAA Cross Country Championships. Andersen did not make Dartmouth's top seven that season and ended up watching from the sidelines.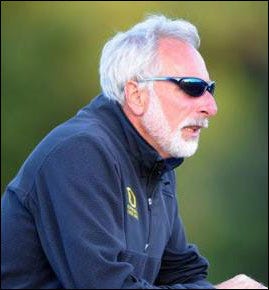 Vin Lananna
Andersen ran all five years at Dartmouth, using up his eligibility. He spent four years completing an engineering degree and then returned for a fifth year to specialize in chemical engineering. Since Dartmouth is an Ivy League school, Andersen didn't receive an athletic scholarship. To compensate, he worked 10 hours a week at various spots across campus, including the library, gym, and engineering labs.
It was a tough balancing act that made focusing on running difficult. There were also rumours about too much partying, but Andersen shrugs off these excuses. "It definitely was frustrating not to continually improve and be at the front like I had been in high school," he says. "I had some good races. I just didn't consistently run well. I have no good explanation on why, it just was."
Throughout his college career, Andersen produced some impressive results: 8:11.1 for 3,000m, 13:49.7 for 5,000m, 30:07.6 for 10,000m. But nothing that captured the same excitement as his OFSAA 3,000m performance. A few of his old OFSAA competitors crossed paths with him while he was at Dartmouth. To them, the competitive spark still seemed alive, Andersen was just dealing with being a small fish in a big pond.
"Last time I raced Greg was when I was at Boston University and he was at Dartmouth," Tsioros says. "That would have been the fall of '90."
"I saw him at an NCAA cross country meet," Schultz says. "His team did fairly well and my team did fairly well, and we got to connect, which was pretty weird in its own way because it was the only time I remember connecting with him after high school."
Matthias crashed in Andersen's dorm room during a recruiting trip to Dartmouth. "I lost contact with him after that," Matthias says. Years later, in the mid-90s, when Matthias was living in Florida, he tried to reconnect with Andersen. "There was a possibility he was somewhere further south of me. I was on the Gulf side of Clearwater, Palm Harbor, and there was talk about him being down there somewhere, and I was going to try and seek him out." But the meeting never happened.
Andersen graduated from Dartmouth in 1992 and stopped running. "I was ready to move on from running and start working," he says. The next 28 years rolled by. Andersen married and settled permanently in the U.S. He's now north of 50 and has two sons, one who's just finished first year university and a second in high school. Andersen's younger son runs and has aspirations to do so in university. "He's got to get a little bit faster," Andersen says, "but he's definitely getting stronger and stronger."
The old aerobic allure hasn't totally died out in Andersen either. When he was in his late 30's living in Texas, he got into bike racing, which soon steamrolled into triathlons. "I love competing," he laughs. He's raced in his age group at the U.S. National Triathlon Championships six years in a row, qualifying for two World Age Group Championships.
He finds the running section of the triathlons hard on his body. "I can't run too many miles," he says. "My calves give me lots of grief." But any day he can get out for a run in the woods is worth it, the old loping stride kicking into circulation. Occasionally, he runs with his sons, both able to outrun him now—"They crush me!"—but he doesn't mind chasing.
---
AFTER an hour of speaking over the phone, our call wraps up. Andersen's thoughts snap back to the present and what's happening with the new sofa. "I should probably check on that," he says. "I told them to get me if they needed help." Before saying goodbye, I mention that I'll be reaching out to a few of his old competitors. He pauses for a heartbeat. "If you talk to them," he says, "please tell them I said hello."
Thanks to Steve Weiler who wrote an excellent story about the 1987 3,000m in 2004 and provided some guidance and clarity on this piece.