Inside the race that changed Canadian marathon running
Trevor Hofbauer wasn't supposed to be great. He wasn't supposed to be fast. He wasn't supposed to become an Olympian. He wasn't supposed to win. Then he left his watch behind and went for it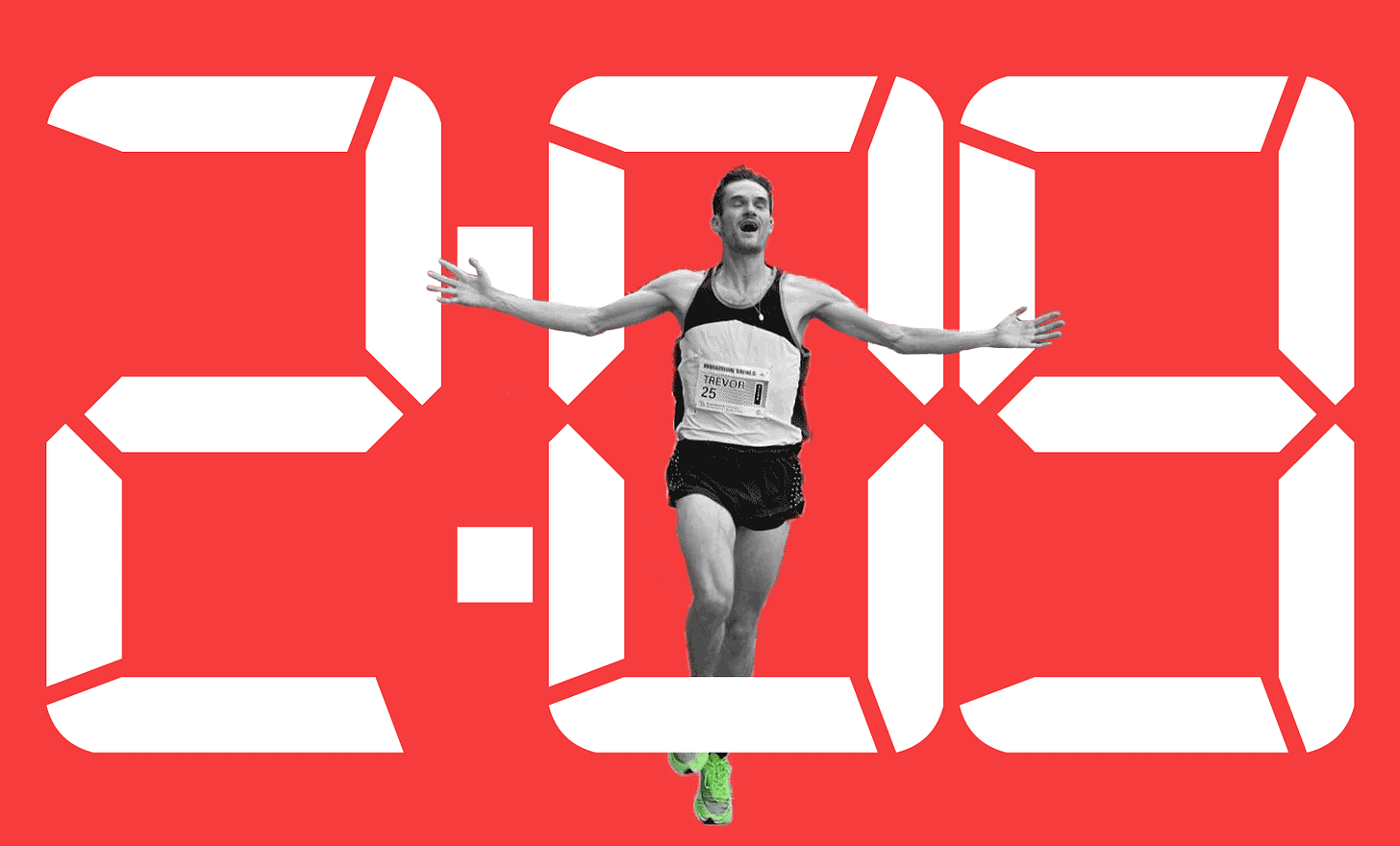 Photo: Canada Running Series/The XC illustration
By Alex Cyr
Trevor Hofbauer sits in a hollowed-out 1984 Volkswagon Vanagon at the foot of Canmore's Rundle Mountain, wearing a wool hat and a North Face puffy coat. Finally, hidden under all these layers, with no cell reception and only the sound of the wind against the mountains surrounding him, he can finally breathe easy.
It has been three days since the tall, lanky Albertan handily won the Canadian Olympic marathon trials at the Scotiabank Toronto Waterfront Marathon, and smashed the Olympic standard of 2:11:30 in the process. Since then, he has received nearly 100 text messages, dozens of voicemails, over 50 Facebook messages, and so many Twitter mentions Hofbauer stopped counting. His phone wouldn't stop going off, so he and his girlfriend Courtney got in his van and left all the hype, hubris and excitement of his Toronto breakthrough behind.
When a 2:16:48 guy becomes a 2:09:51 guy and the second-fastest Canadian man in history in the process, people (and Letsrun) take notice. He has yet to return each message, but if you know Trevor Hofbauer, you know he will.
"I can't just say 'thanks,'" he says. "Many of the texts come from people I know and hang out with. It's gonna take time."
Hofbauer is not used to this level of attention. Not even online. The only Letsrun thread dedicated to him before last weekend discussed how he lost out on a $1,250 time bonus for running under 2:18:00, when he spent excessive time celebrating in the finishing stretch of a race and missed the bonus by six seconds. That was the 2017 Canadian marathon championship.
In Canada's niche running community, the 27-year-old was already a minor star. But he was a goofy star.
He was the kind of star people liked for his quirks—like how he frequently chats with his competitors and ask them if they need a squirt of his water bottle during races. Or how he coaches himself and runs without much care for splits or a watch. He tried to fight the quirks by moving to Guelph and training with Speed River, Canada's top distance group at the time, a typical move for an aspiring Canadian distance runner. He quickly moved back home to Calgary, because it wasn't working out.
Hofbauer was not supposed to be the kind of star Canadians would remember for his running times (his 10K best is 29:24 and his half-marathon best is 64:30;  good times, but nothing pointing to greatness). He existed in a subdivision of Canadian runners expected to forever fall short of Jerome Drayton's once timeless marathon record of 2:10:09. Until Sunday's race, many would have argued that he existed in the category below that category. He certainly wasn't the quality of runner expected to redefine what it means to be a  top marathoner in Canada. Put simply, Trevor Hofbauer was mortal.
Until he wasn't.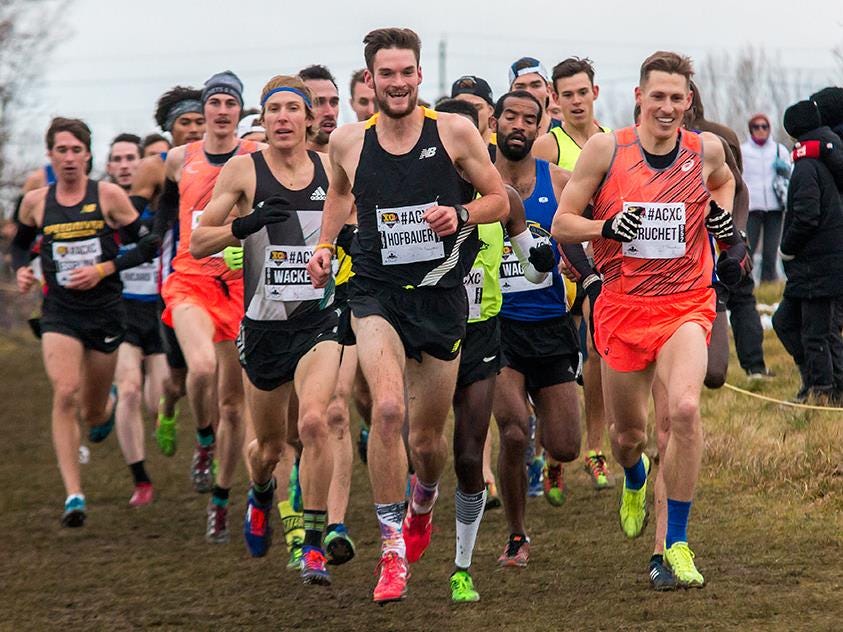 Photo: Sportsgate Kingston
On loping strides and between high fives, the Calgarian transcended the 2:10 barrier that has denied Canada's very best male marathoners for years. It was the barrier that even the fabled Drayton could not sneak past. A barrier that seemed only crossable by generational superstars of Cam Levins' clout, after the Olympian dropped a historic 2:09:25 in Toronto last year. Levins won a NCAA championship, went to the Olympics, set track records and joined a world-class training group. He was supposed to easily win the marathon trials in Toronto, and secure a spot for the 2020 Tokyo Olympics.
Hofbauer, a former mediocre technical college runner with no Olympic experience or Wikipedia page could be considered the first Canadian mortal to run under 2:10, and he did it in a weird, inspiring, funny, and totally on-brand way.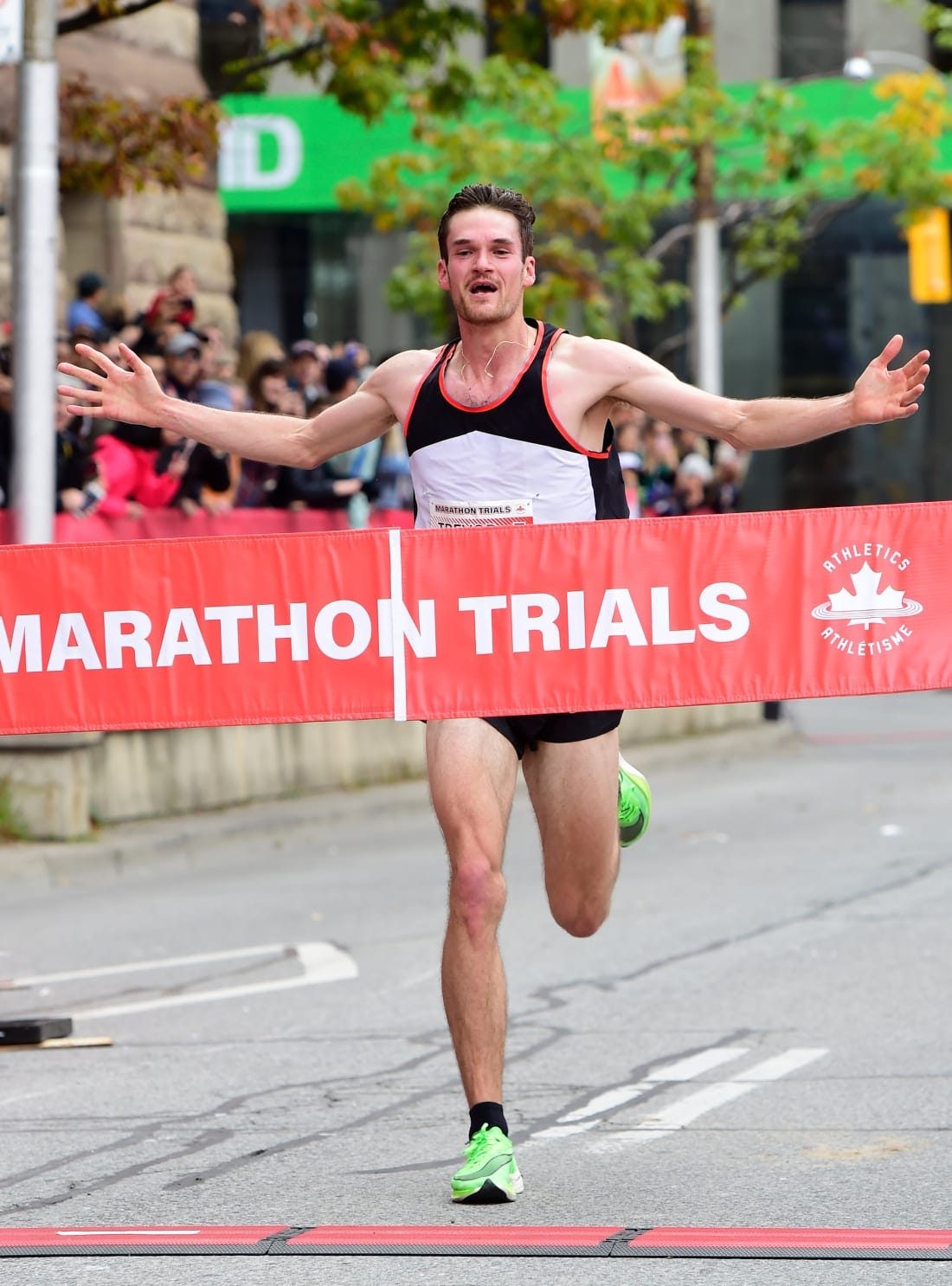 The Race that changed Canadian Marathoning
Hofbauer warmed up with Evan Esselink, a 62:17 half-marathoner from Courtice, Ont. who was about to run his first-ever marathon. The pair had trained together in Guelph in 2016. Since then, Esselink has also moved on and now trains in Vancouver. They ran for 12 minutes away from the start line, and 12 minutes back. Neither remembers exactly what was said. Esselink admitted to being nervous. Hofbauer was calm.
"Trevor and I are similar before races in that we don't say very much," says Esselink. "But I could tell Trevor was confident."
They ran their last few minutes with Theo Hunt, an athlete from British Columbia. Hofbauer looked down at Hunt's feet. He was wearing a pair of Nike Next% in warmup. "Theo, this will be the most relaxed warmup you'll ever have—you'll feel like you're running on clouds," Hofbauer cracked.
By the time he reached the start line, Hofbauer had laced his own pair of Next% for the very first time in a race. Just two weeks prior, he had lost his New Balance sponsorship. The company would stop supporting him by 2020 because, Hofbauer says they told him, they were looking to globalize their brand and sponsor athletes who had a better shot at Olympic medals than he.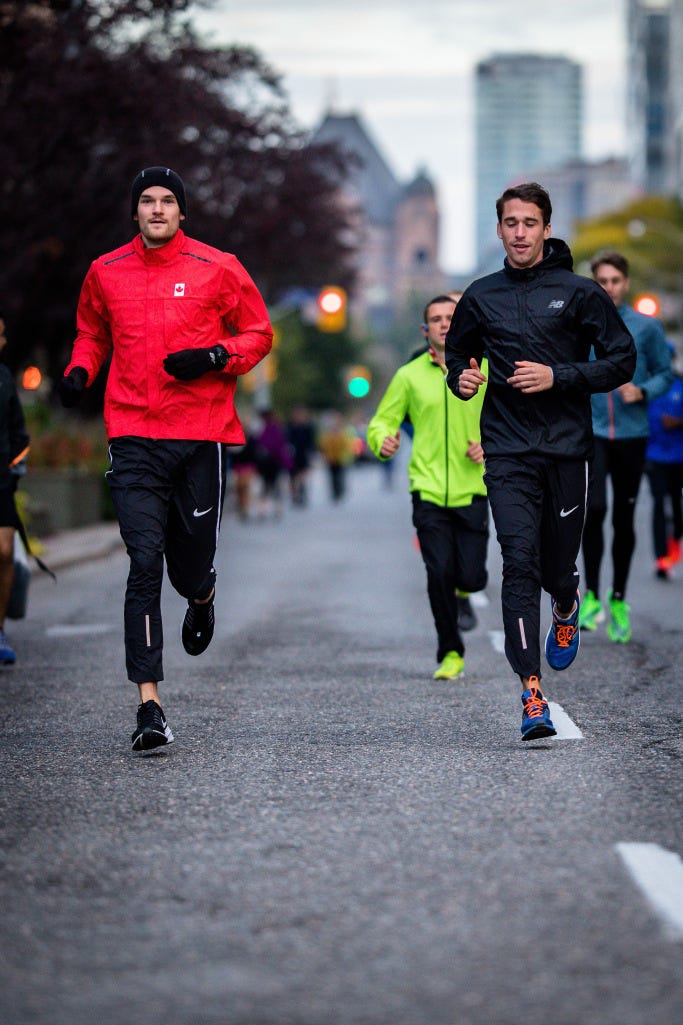 Hofbauer and Esselink warming up before the marathon. Photo:

Jody Bailey
"Then they said they were happy that I still could represent them in Toronto this fall," says Hofbauer. "I said 'screw this.' I'm ending the contract right now and I'm going to wear what I want."
As soon as he parted ways with New Balance, he was gifted a pair of Nike Vaporfly Next%. Jody Draude, the Canadian men's 50+ half-marathon record holder, who is coached by Hofbauer, bought him an electric green pair of the controversial shoes, so that he would have every chance to run fast in Toronto.
"I'm not the type of guy who thinks the shoes make the athlete," he says, "but if I raced again, yeah, I'd wear the Nikes again."
Donning the swoosh, Hofbauer formed a pack that included two of the top Canadians: Cameron Levins—the heavy favourite to win the Olympic marathon trials—and Esselink. The first five kilometres felt fast, but Hofbauer had no way of knowing their pace—he wasn't wearing a watch.
"Not using a watch at all, that's a whole other level."
"I remember learning how to run by feel from (three-time Olympian) Eric Gillis when I was in Guelph," he says of his choice to run without any sense of pace in what would become the biggest race of his life. "Many of my workouts were time- and effort-based, so I did not feel like I needed a watch today."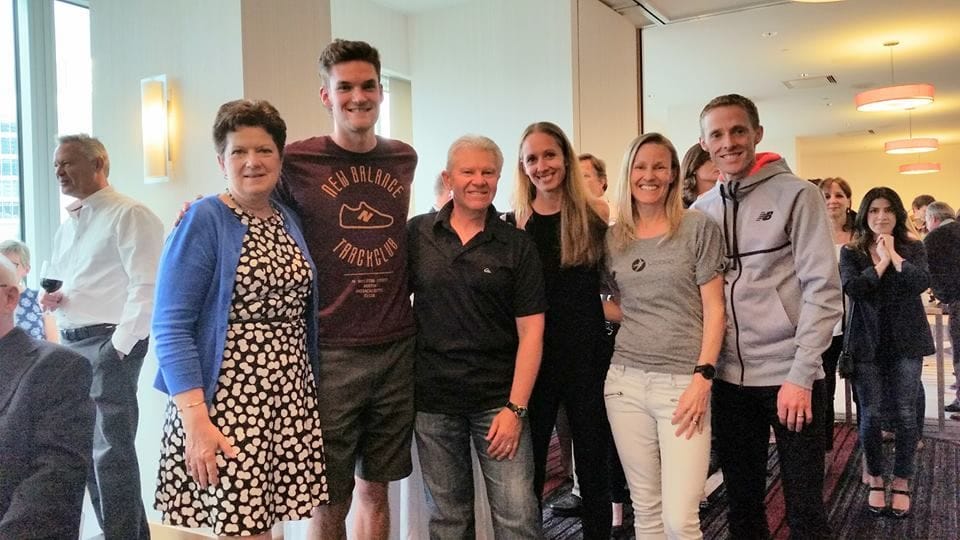 Trevor Hofbauer and Eric Gillis (far right) in 2016
Gillis finished 10th overall in  the marathon at the 2016 Olympics, and announced his retirement earlier this year. Despite chasing Jerome Drayton's national marathon record for more than a decade, he fell just short of it, and holds a personal best of 2:11:21. He is painfully aware of how difficult it is to run under 2:10. On race day, Gillis watched the Canadian marathon trials from his home in Antigonish, Nova Scotia,  where he now coaches at his alma mater, St. FX University. Three years prior, he had helped convince Hofbauer to move from Calgary to Guelph so they could train together—he saw something in the tall Calgarian's running form and love for high mileage. During Hofbauer's time in Guelph, Gillis had encouraged him to detach from his watch and run more by feel. As the live stream focused on Hofbauer's unlikely presence, often leading Levins, he couldn't believe what he was seeing.
"I get that running by feel and effort can reduce anxiety and stress, but even I like to have a backup," says Gillis, who would usually wear a watch and try not to check it. "Not using a watch at all, that's a whole other level."
Without any knowledge of pace, Hofbauer split the half-marathon mark in 1:04:59—a mere 29 seconds slower than his PB over the distance—in a pack of eight. Esselink and Levins, both 62-minute half-marathoners, ran alongside him.  But neither looked as confident or relaxed as Hofbauer. As Levins lingered at the back of the group, Hofbauer ran alongside the hired pacers, smiling, as if he was out for an easy Sunday jog with friends.
"The plan was to go Olympic standard pace for as long as I could."
One kilometre later, the group approached a fuelling station. A runner ahead of him accidentally knocked down two bottles, one of them being Hofbauer's. When he saw his bottle out of place, the Canadian ran past the station, but changed his mind three strides later. Hofbauer doubled back and bent down to grab his bottle. In an act of selflessness, he stretched out further and also picked up the second bottle on the ground.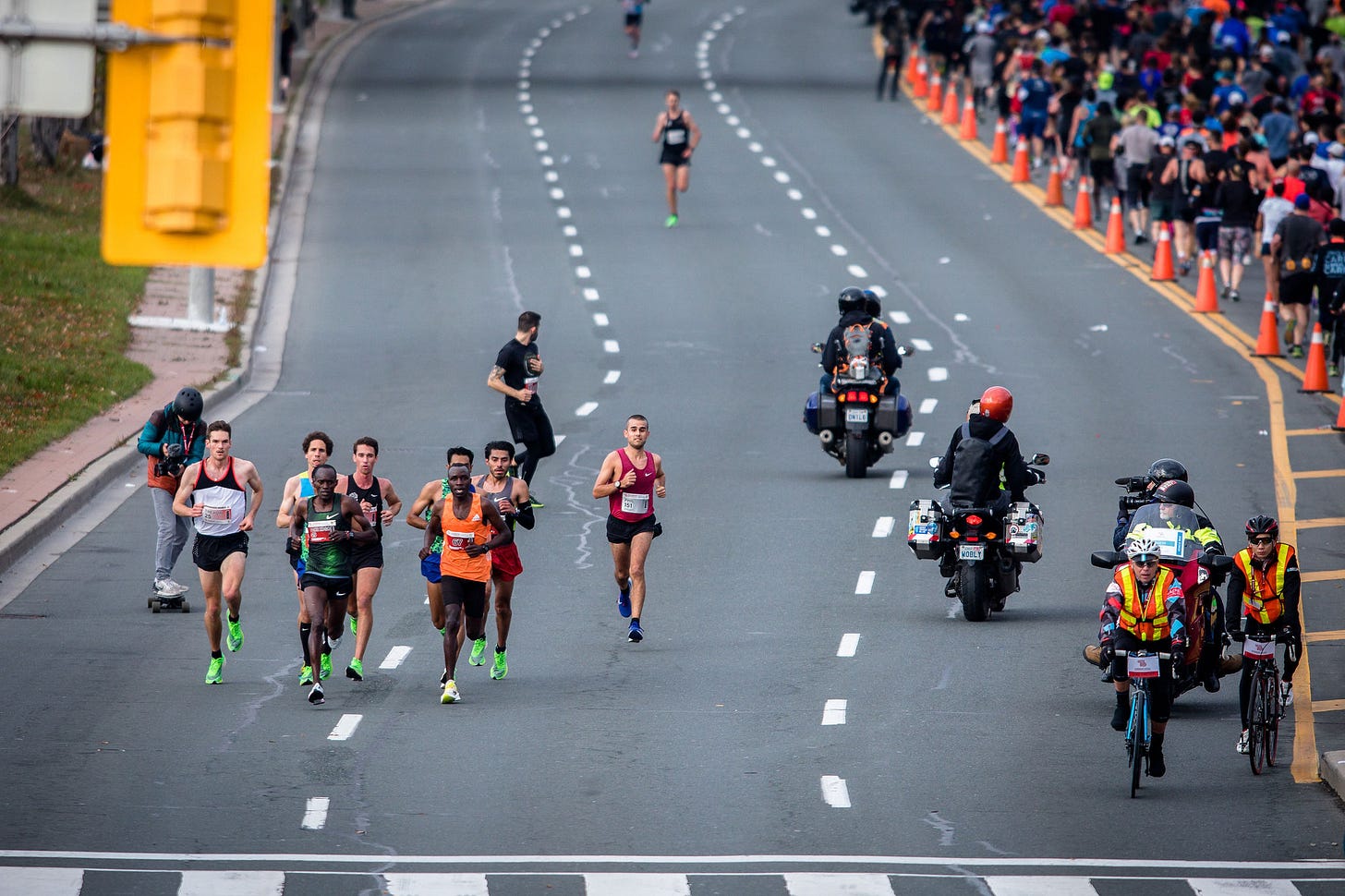 "I grabbed the other guy's bottle too, because it was right there," he said. "If I didn't I would have felt guilty. So then I got back to the group and I'm like 'Yo, someone dropped their bottle.'"
Nobody in the small pack of runners answered. Hofbauer then decided to gift the bottle to the pacer.
"I thought, he's doing a job for us, let's get him the bottle."
Hofbauer ran up to the pacer's shoulder.
"I told him, 'You dropped your bottle,' and he looked at it, then looked at me. [When he didn't take the bottle] 'I'm like, 'Fuck you, I gave you nutrition, and you chucked it away. I sprinted to come back with you guys!'"
While Hofbauer played hot potato with two bottles at the front of the group, Esselink was falling behind. Three kilometres later, Levins started losing speed. With more than 15 kilometres to go, the unlikely Hofbauer was the lone Canadian in the 2:10 pack, and he was speeding up.
"I thought, if I keep my foot on the gas, nobody is going to catch me."
At 33k, Hofbauer made a U-turn on Queen Street East, a symbolic and crucial moment in the race each year, and doubled back towards the finish line. The tight turn made Hofbauer run near incoming runners, still on kilometre 32, on the other side of the road. Hofbauer immediately migrated to the left side of his pack and extended his arm to give high-fives to the trailing elites.
"I had to get Rory (Linkletter), he's a Calgary guy," says Hofbauer  of the 23-year-old who was running his debut marathon, chasing the lead pack. "And then Dylan Wykes, he's a 2:10 guy, that deserves a high-five. We made good contact. But the main reason I had to get out there was that I had to find Evan. It was his first marathon, and he's my best friend."
Esselink and Hofbauer had been allies in Guelph. Back then, neither had outstanding credentials. The pair grew close when they realized they shared a quirk: they both had outlandish running goals.
"Three years ago," says Esselink, "we had conversations about wanting to become competitive on the international stage. We both had goals of making Tokyo, to become world class… some goals we had, I can't even say."
Esselink's chance at qualifying for the Olympic Games in this race were dwindling by the 33K mark, but he mustered up the energy to make contact with Hofbauer and cheer him on.
"I just pointed to him and said: 'Get that standard.'" Esselink was referring to the time of 2:11:30 Canadian male marathoners must hit in order to be considered for the Olympic team. Another way of achieving that standard was by winning the Canadian trials race; Hofbauer was on course to do both in one run.
Amidst the high-fives, Hofbauer was picking up speed. When he reached 35K, he had put almost five minutes between himself and the next Canadian behind him.
He locked into a pace of what  ended up amounting to 3:03 per kilometre, although Hofbauer had no idea  how fast he was moving and he surged towards downtown Toronto, and the finish line. In the final stretch as the city streets became more densely filled with spectators cheering him on, his facial expression shifted from fatigue to elation, then finally to gratitude—all subtle variations on that same consistent, innocent grin. This time, as he careened around the final bend with 123 metres to go, and saw the finish line in front of him, fans screaming on either side of the corralled straight, he wasted no time celebrating.
What it Means
The men's marathon in Canada is in a state of change. The three titans who defined the event for years (Reid Coolsaet, Dylan Wykes and Eric Gillis) have retired, or are in the twilight of their respective careers as elite distance runners. A new wave of talent now has to decide how good it wants to be. And to do that, they need to understand what, exactly, is possible for a Canadian marathoner, given the extreme demands of training for the distance and the evaporating opportunity to earn a living as a professional runner.
Before Sunday, a 2:09 seemed only attainable for the likes of Cameron Levins, and perhaps just a few other world-class  Canadian track superstars, like Mo Ahmed and Justyn Knight, if they were to ever hit the roads. It was deemed out of reach for grinders like Tristan Woodfine, Evan Esselink, John Mason and Thomas Toth. It felt worlds away from young stars like Mike Tate, Rory Linkletter, Ben Flanagan, and Ben Preisner. If so many men before them failed, why would any of these marathoners ever succeed?
On Sunday, that all changed when Hofbauer did the unthinkable, and gave a figurative high-five and "let's go" to all those who will chase him under two hours and 10 minutes for years to come.
Trevor Hofbauer is not your dad's 2:09 marathoner, nor is he the 2:09 marathoner we conjured in our minds, but he is the 2:09 marathoner we desperately needed. He swears, he fumbles, and he picks up the water bottles of those who drop them. He's imperfect, unconventional, and thoroughly human. It's the fact that he is mortal—that he is nothing like we expected our next great marathoner to be—that will make a whole new generation of Canadian men relate, and say nine powerful words:
"If this guy can do it, so can I."